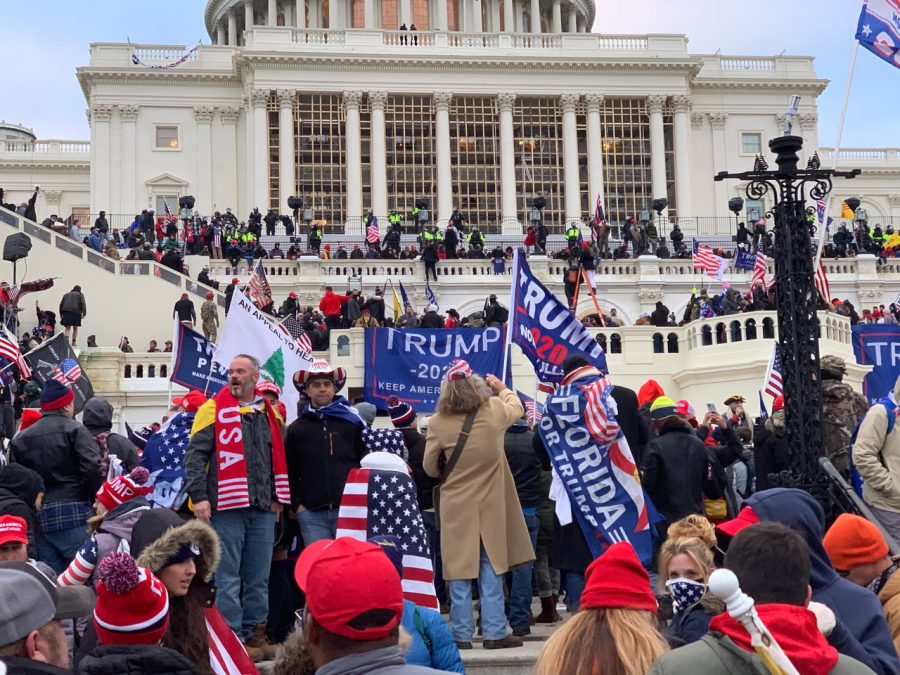 Somer Sodeman (12) was in her yearbook class when the Ceniad chat suddenly started buzzing about something happening at the Capitol. 
"I thought it was like the [anti-mask protests] at the Lansing capitol," Sodeman said. "I thought it was maybe 50-100 people and I thought, well it's just another one- not a huge deal."
On Jan. 6, 2021, the United States Capitol building and surrounding area was stormed by supporters of former President Donald Trump, attempting to overturn the presidential election that did not favor him. This during the time that votes were being affirmed by Congress. 
Throughout the next few hours, it became apparent to Sodeman- as well as others- that this wasn't an ordinary protest. 
Caitlyn Shaw (11) was in her AP Euro class when her classmates and teacher started discussing the events. She immediately started considering the consequences.
"What happens when people break into the capitol building and try to attack Congress?" Shaw said. "I was worried that people were going to leave the capitol building and start attacking stores nearby." 
Shaw had expected the protest because of the former president's encouragement and his supporter's social media presence, but she didn't expect a riot culminating in the Capitol building being broken into.
"I really thought the police would stop them," Shaw said. "Especially considering the police response to all the [Black Lives Matter] protests and this is the Capitol Building."
The distinction between that day's capitol riots and the Black Lives Matter (BLM) protests in the summer was one many people made. While the largely peaceful BLM protests were met with heavy police response, the Trump supporters breaking into the capitol experienced comparatively little resistance.
"They just let them walk in," Shaw said. "It's a very big example of racial injustice in this country that they were just not treated the same. They were allowed to break into this capitol. I couldn't believe it."
Naomi Sowa (10) was "appalled" by the events taking place on Jan. 6, specifically the police response.
"The first question I asked my dad was 'where are the police?'"  Sowa said. "It really stuck with me that they didn't do anything."
As she watched the events unfold, the contrast of how differently various groups were treated was "eye opening."
"It really stuck with me, it really hurt," Sowa said. 
In contrast to Sowa, Sodeman was unsurprised by the riot and lack of police response, attributing it to white power and privilge. 
"I kind of knew something was going to happen, it's just surreal when it does happen," Sodeman said. "I think it's a clear example for people to wake up and see how clear our country is run on white power."
Looking at the media of the riot, it's hard to find a face that isn't white- bringing into question the true motive behind the riot.
"It's crazy to think they think that they're patriots and they're fighting for this country, but they're not. They're fighting to keep a country where white people are above everyone," Sodeman said. "It was chaotic, scary, and surreal to be [indirectly] living through."
The event was especially personal for Sodeman, who found out some of her own family was in favor of the rioters.
"It made me feel sorry for them, in a way," Sodeman said. "I know whatever I say won't change their mind. They don't realize how Trump really does not care about them. And it's really sad that they keep supporting him."
In the aftermath, Shaw hopes this event will incite change, including more news coverage on white terrorism and police reform. 
"I can't believe we've gotten to this point," Shaw said. "We need to do something about white terrorism. There have been so many racist and anti-Semitic acts over the last year or so, and it's not talked about in the news. We need to talk about it, or else people are going to say it doesn't exist."
Thousands of people overwhelming the Capitol made these issues impossible to ignore for everyone, but for the first time lawmakers were the ones most directly affected.
"The photos of the Congress people hiding on the floor in gas masks- I can't imagine living through that and not having to change perspective," Shaw said. "I feel like a lot of times [politicians] separate themselves, and they can't have that separation anymore, cause they've lived through it. It finally affected them."
After the dust settles on such a historic event, there is little moving on. The question of "what now?" lingers on many people's minds. 
"We can't forget this," Shaw said. "There needs to be change after this. There has needed to be change for a long time."