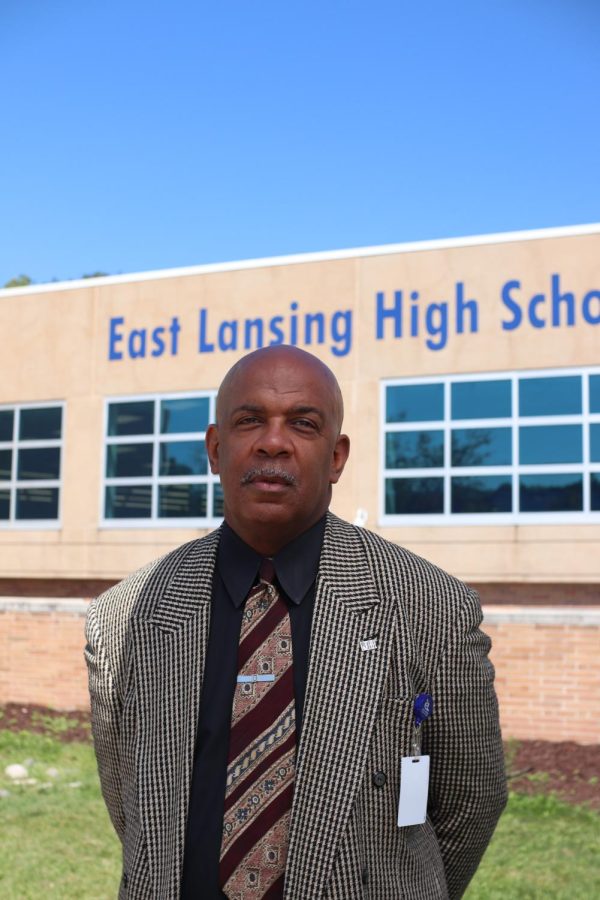 Photo by Gretchen Rojewski
Meeting Mr. Mayfield
New ELHS principal spotlight
November 9, 2022
Ever since he was in high school, Shannon Mayfield has wanted to help people. Whether in law enforcement or education, Mayfield has always tried to serve his community in whatever way he could. 
As the newly hired principal at ELHS, Mayfield, 61, is continuing his long career of community-oriented service. He officially started at ELHS July 1, 2022. The hire came after a complete restart of the search and interview process, which began in early 2022 after former principal Andrew Wells announced he would retire at the end of the school year.
Mayfield became a candidate in the secondary round of searching for candidates, after an initial round left many on the interview committees unsatisfied.
"It's really hard to walk in after Mr. Wells," said English teacher Sheri Seyka, who was on the interview committee. "He was so connected with our students. Mr. Mayfield is stepping into pretty big shoes, but I think he's doing a great job." 
Mayfield, who was living in Lake Tahoe, California at the ti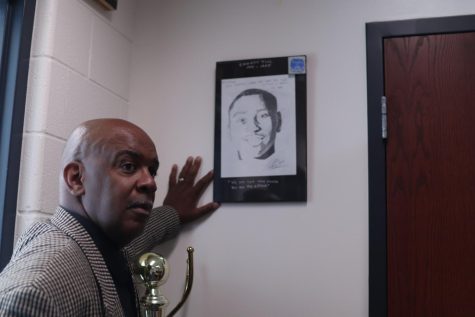 me, heard of the opening from a friend in Michigan. One of the strongest aspects of Mayfield that caught Leyko's eye was his vast experience, as well as his confidence and passion. 
Mayfield began his professional life in law enforcement, but switched to education after 20 years as a federal air marshal and Georgia state trooper. As an educator, Mayfield has worked in many different schools, from Pennsylvania to California. Despite traveling around the country for various jobs, Mayfield's roots are still in Michigan as a graduate of Detroit Mercy.
"I was sharpened and shaped in the state of Michigan," Mayfield said in an interview.
Growing up in Detroit made Mayfield aware of the value of diversity. Because he was surrounded by people from around the world when young, he has tried to learn from their different experiences and viewpoints. His high school, Cass Tech in Detroit, was itself a testament to the diversity he values. People from all over studied and taught at the school. Mayfield has also been surrounded by people of diverse backgrounds in his professional careers.
"That's a small capsule of what the world looks like," Mayfield said. "It taught me how to mix with people. How to get along with people, how to listen, how to encourage, how to support and how to have conversations that are challenging at times."
All of his jobs have been valuable experiences to him.
Mayfield credits his time in law enforcement with teaching him many lessons that impact his work in education. His job was strenuous, dealing with criminals and investigating fatal accidents. The moment that stands out to him the most is the incident that made him want to quit the field. In 1985, while out on patrol, a scary situation almost forced Mayfield to shoot at two young men before he was able to deescalate the situation. He recalls how he was just driving home when the incident occurred. 
"I was prepared and trained to do my job," Mayfield said. "But I kept saying, give these dudes a chance. Once I calmed it down and got it under control … I realized my time in law enforcement is limited." 
After the almost-shooting, Mayfield came to realize he wanted to help his community in a different way. Instead of the grueling work of law enforcement, he wanted to help the community from the ground up by relationship-building and coaching in schools. 
So he went back to school at Detroit Mercy and became certified to teach, though he still credits a lot of his mentoring and disciplinary skills to his time serving in the Georgia State Patrol and as a U.S. Air Marshal. 
"Law enforcement allowed me to understand what a healthy balance is," Mayfield said. "You're not in control of other people, you're serving other people."
ELHS reminds Mayfield of the environment he was able to grow up in. Whether it is the school's slogan, "East Lansing Family," its various traditions dating back several decades, or its recognitions for academic excellence, Mayfield is able to draw a line back to his time in high school. Mayfield also enjoys the competitive spirit in sports and activities at ELHS, something that he believes creates a better environment.
"Whenever they can academically, sports teams swimming, newspapers, yearbook, folks are competing. They are and it breeds success when you're in that kind of an environment," Mayfield said. "And that's why I'm so fired up about it because it's like it's a continuation for me is like, I've been down this road. Let's go. Let's get it done."
East Lansing as a city is also not new to Mayfield. Initially, he was recruited from high school football to play at MSU. Instead, his parents encouraged him to attend both a HBCU and a majority white school, with Mayfield opting for Jackson State in Mississippi and University of Detroit Mercy. Now at ELHS, Mayfield is trying to bring together all of his experiences to create a better environment. He hopes to increase student collaboration and participation in planning school events. 
Mayfield is easily adjusting to his move to East Lansing. He lives with his wife, who is his high school sweetheart from Cass Tech. Living here also allows him to be closer to his two sons and three grandsons, who live in Ohio. 
One of his favorite pastimes outside of school is cooking food with his wife. He noted that he pays special attention to the presentation of the food while cooking. He also enjoys experimenting with fashion, crediting his Detroit upbringing and his stylish parents, not only stylish in clothing but also in their culture and food. His infamous hat he wears was made at a local Detroit business, which his friend owns.
"All of us have a style," Mayfield said. "I mean, Mr. Wells used to wear his comfortable shoes. I've been teased about it, you know, you have shoes to fill. And I joke back like, no, I want my own shoe. I want my own way."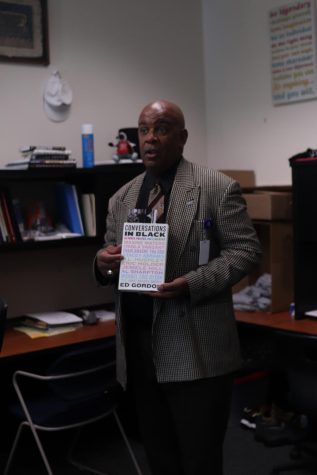 Mayfield's approach to discipline is not as hard-line as some administrators. He doesn't like environments based on punishment and extremely strict rules. Instead, he prefers to build connections with his students, understand their strengths and challenges, and to motivate them. Most importantly, Mayfield wants students to have a voice, a characteristic he has carried with him since his teaching days.
"We have fun, you kno
w. I was known to prank my students. Joke with them," he said. "I allow my students to configure their classrooms. Because it wasn't my class, it was our class."
This is something students have noticed as well. Evan Newcombe (12), who does announcements for the school, interacts with Mayfield regularly.
"He was like an enforcer, but also, he's chill and funny and likes to have fun. One thing that I was surprised by is that he took lots of pride in the seniors," Newcombe said.
Students have noticed Mayfield attending various events, including football games, a lacrosse game when he was being hired, and marching band camp. Will Beekman (12), the student body president, is impressed with Mayfield so far.
"I think he's a really nice guy. He's gonna be a good leader for the school, seems to really care about the students and really wants to be involved with everything. Just showing up at practices and games and just seeing him in the community, really showed that he cared about our well being."