How the Back-To-School Plan is Affecting Special Education Students and Teachers
Barb McCaffrey is a special education teacher at ELHS. She has been working directly with special needs students for years, but this semester she's in the uncharted territory of teaching in a pandemic.
"I'm still trying to figure out what works," McCaffrey said. "[Online teaching] was frustrating." 
In the fall of 2020, some special needs students returned to in-person learning, as staff felt it would best suit their needs.
 "They were certainly programs where we felt that in person offerings would better support the needs of students." Director of Special Education Services Nick Hamilton said.  
"Coming back in the fall, you know, as far as a timeline, our goal as a district was to have students in person," Hamilton said. 
McCaffrey, who had been working with the students personally, shared her feelings on going back in person. 
"When we were able to come back in the fall, that made me very happy," McCaffrey said, "Because I could work with the students." 
They had to return to online learning when the order from the governor came, but resumed in January and have been back in the mornings since. Since January 19, the students have remained in-person in small groups. Safety measures were taken, including washing hands, wearing masks, and social distancing. There are still concerns though, from both parents and teachers. 
"I had two students whose parents decided not to send them back," McCaffrey said. "A lot [of the reason] is that they might have underlying health issues." 
To address these concerns for students, Hamilton detailed the plan of individualized teams for each student to best suit their needs. 
 "We're working on a one-on-one basis with the families," Hamilton said. "We're going to have to make some pretty serious decisions in how we're supporting students, but that's going to come from that individualized team in that approach to wrap their arms around." 
McCaffrey shared her personal worries, that are affecting all teachers, but especially special education teachers. 
 "I haven't got my second shot and it's going to be right up before we start," McCaffrey said. "I get it two days before we started three days before we start in person, so that's a little bit of my concern."  
Meaning she won't be immune when school starts. 
Another problem teachers face, special education along with them, is how they will manage hybrid teaching with the new schedule coming March 1. 
"Whether they're going to be those in the classroom, going to be on the computer– I'm still trying to figure this out," McCaffrey said. "I'm losing sleep over it because, you know, you want the equity piece of it all the way around." 
McCaffrey continued on how she personally is dealing with making the plans for students and herself. 
"For me personally, I stressed out at first," McCaffrey said. "I figured, it's just a learning curve. We'll see what works and what does not. Like I said, the equity piece is just the big part. I want to make sure everybody is getting what they need." 
While the education plan is still being decided, McCaffrey is working hard to keep herself and her students safe and well. 
"This is this is a challenge and are we going to be able to keep students social distanced, we will do our best," McCaffrey said. "I just gotta keep myself thinking OK, you're still ok, you know, keep yourself safe." 
Leave a Comment
About the Contributor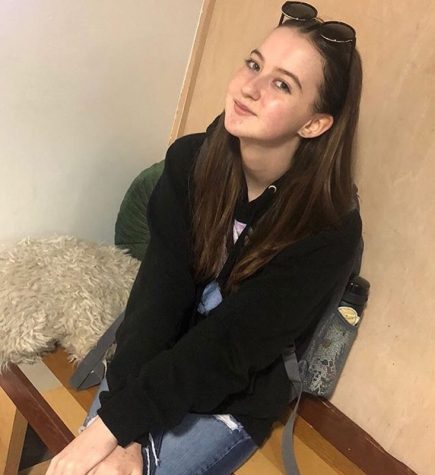 Allison Treanor, Print Editor
Allison Treanor is a member of the Class of 2023 and one of the staff writers for Portrait. This is her first year on staff as a sophomore. Allison's...