Students and Specialists Express Optimism About Vaccines
When Sydney Greenway (12) was about to receive her first vaccine dose against COVID-19 at Sparrow on Feb. 6, she was excited. And once she had received her second dose about three weeks later, a sense of relief crashed over her. After months of enduring the pandemic, Greenway felt significantly better about her health when going out in public.
Greenway is one of 80,000+ people who have received a COVID-19 vaccination in Ingham County since vaccines began rolling out. With vaccine distribution and supply increasing in recent months, along with the amount of vaccines administered, the long-anticipated end of the COVID-19 pandemic appears to, possibly, be in sight for some. 
However, approximately 50.8 percent of the population in Ingham County remains unvaccinated according to the Ingham County Health Department's (ICHD) media briefing on March 31, 2021, of which "many" will remain ineligible. 
And the ZIP code 48823, which covers East Lansing, remains the top ZIP code in Ingham County in terms of cumulative COVID-19 cases, according to an Ingham County Health Department (ICHD) media briefing on March 31, 2021. The ICHD's heat map from March 29, a visualization of COVID-19 cases, also displays East Lansing as a hot spot in the county.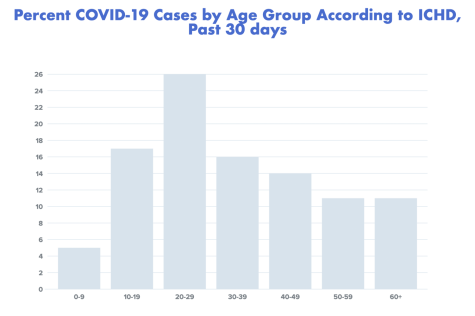 In addition, with a large amount of current COVID-19 cases in Michigan being within the 10–29 years old age group (according to the State of Michigan) health officials such as those from the ICHD have continued to stress the importance of vaccinating those who are eligible within the 16–18 age group, as it has the potential to both decrease spread and decrease risk for schools.
"It's a significant game changer because we know that, basically, if you are fully vaccinated you don't have to quarantine," Linda Vail, the ICHD Health Officer, said in a media briefing. "So you won't be having kids missing school from quarantines as well as illness."
Students confident in vaccine and likely to receive it
However, Vail also stressed the importance of having enough students vaccinated, saying that not having enough vaccinated students could result in the health department or other authority having to "exclude [non-vaccinated students] from school" during an outbreak, comparing a COVID-19 outbreak to a pertussis or measles outbreak. Both of these diseases have vaccines, as well as people who have opted to not receive a vaccination. Much like COVID-19, measles can easily spread without a vaccine.
But without approval for the usage of vaccines on people aged 12–15, ELHS faces a problem; a survey sent out by Portrait in late March and returned by 153 showed that ineligible students accounted for 24.2 percent of respondents, though many, such as Mackenzie Smith (9), said they would get vaccinated if they were eligible.
"I would really like to get the vaccine, but I am only 14 and not currently eligible," Smith said. "If there is a vaccine available for people under the age of 16 then I would happily get it."
Only 5.9 percent of respondents said they would not get vaccinated. These students would likely be pulled out of school by the ICHD should an outbreak occur. Comparatively, over half of the respondents said they would receive the vaccine: 32.7 percent of respondents would get the vaccine once eligible or as soon as possible, with an additional 22.9 percent already vaccinated. Grace Russo (12), who has been vaccinated, hopes that more vaccinations will help with a return to normalcy.
"I trust science and I want to be safe when I go out in public and want to help the country get on the right track when it comes to recovering from the COVID pandemic," Russo said.
 The remaining 14.4 percent of respondents responded with "maybe." However, many in this category wanted to receive a vaccine, but were not too concerned about receiving one soon or did not have a solid plan, with only a few holding off because of doubts related to vaccination.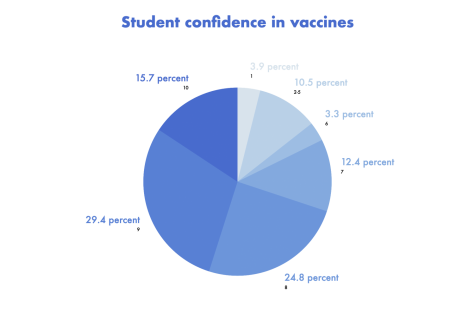 Despite nationwide trends of distrust for the vaccine, ineligibility will likely prove to be the biggest obstacle for vaccinations among ELHS students. Confidence in the vaccine is high, with 69.9 percent of respondents rating their confidence an eight or higher on a scale of one through ten. Only 3.9 percent rated their confidence a one, with the remaining 26.2 percent of respondents mostly giving ratings of between five and seven.
Several respondents noted that their confidence was below a ten only because they were not confident in a vaccine's ability to end the pandemic, saying precautions must be taken as well. These feelings are echoed by healthcare officials, who continue to emphasize the importance of physical distancing and mask wearing.
"Quite honestly, one of the reasons we're seeing this surge in cases is that people have let their guard down significantly," Vail said. "Additional restrictions don't necessarily fix a lot of things when the general prevailing opinion is people are getting vaccinated and we don't need to worry about this anymore."
Students generally optimistic about vaccines, awaiting eligibility
In addition to high confidence, the age of eligibility has the potential to lower in the near future, with Pfizer, the only company so far with a vaccine approved for use on 16-18 year olds, having recently announced a 100 percent efficacy rate in a trial among 12 to 15 year olds. This was accompanied with "robust antibody responses" and being "well tolerated." 
Pfizer recently applied for FDA approval in order to allow the usage of its vaccine on 12-15 year olds. Moderna has also tested the vaccine on people between the ages of 12 through 17, and results are expected soon. A trial on children from six months to twelve years old is ongoing.
"It is very important to enable [children] to get back to everyday school life and to meet friends and family while protecting them and their loved ones," said Ugur Sahin, the co-founder and CEO of BioNTech, in a press release by Pfizer and BioNTech.
Vaccinations do take time to distribute, with Pfizer's vaccine requiring two doses spaced out by around three weeks. Moderna's is similar, being the other two-dose vaccine approved for use in the U.S., among those 18 and up. Johnson and Johnson's vaccine only requires one dose to be effective, however neither Johnson and Johnson nor Moderna are approved for use among those under 18 years old, limiting supply for 16-18 year olds despite an increase in supply from having three approved vaccines. Johnson and Johnson's vaccine is currently on hold with the FDA in order to research rare blood clotting incidents.
Despite limited options for 16-18 year olds, the ICHD and other health authorities still recommend that everyone 16 and up sign up for a vaccination. Anyone who is 15 years old can sign up to receive the vaccine with the ICHD as soon as they turn 16.  
When asked what vaccine they would prefer to receive, not accounting for the approval status of that vaccine for their age group, a majority of respondents of Portrait's survey (54.9 percent) said they would prefer to receive or have already received the Pfizer-BioNTech vaccine, with a combined total of 7.2 percent picking either Johnson and Johnson or Moderna, and 27.5 percent saying whatever vaccine they receive would be acceptable. The remaining respondents were not eligible and did not pick an option, already vaccinated and did not select which they received, or were not getting a vaccine.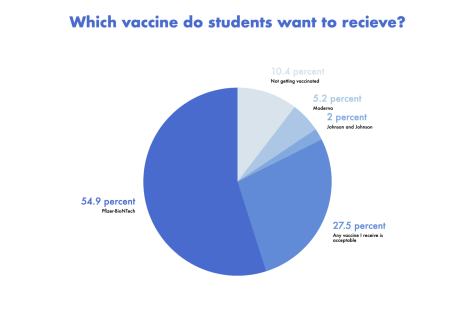 Regardless of which vaccine was preferred, students were cautiously optimistic at the prospect of vaccination and nearing the end of the pandemic. Concern about side effects, whether mild or severe, was prevalent, as well as doubts and confusion as to what emergency authorization meant. However, many recognized that all three vaccines approved for emergency use are both safe and effective.
"I've heard nothing but good things about the vaccine, there are side effects of every vaccine so this really can't be a 'bad' vaccine," Luke Vitale (11) said. "Of course you'll have some moments where you think 'well, what if it doesn't work' but I have had a bunch of family members get it with no issues whatsoever." 
Despite optimism surrounding vaccinations, students must play active role in ending pandemic
This sentiment towards side effects is shared among healthcare officials as well. While some side effects can feel like an illness taking hold, it is emphasized that the side effects are significantly better than becoming infected with COVID-19. Healthcare officials also often emphasize that side effects are normal, and that severe side effects are rare. An information sheet is given out to those who receive the vaccine in most locations, and contains necessary information related to side effects. 
Students also expressed concern in their responses that vaccinations would not be enough, not without restrictions and other measures put in place, along with the public's cooperation. Public health officials and experts agree, and continue to make one thing clear: vaccinations alone will not end the pandemic. 
One such expert is Debra Furr-Holden, a professor of public health at Michigan State University, who cautioned in an interview with NPR that potential for spread will continue to exist without public health measures, even with vaccinations increasing everyday.
"The optimism , I think really needs to be backed by real action," Furr-Holden said in the interview. "This is one of those things where I think the shared value that we all have for human life needs to win the day, and right now I don't feel that's what's happening."
Even though risks remain despite vaccinations, students generally look forward to resuming activities as normal once it is safe for everyone involved to do so. 
Greenway, who is fully vaccinated, is personally excited to do more with her friends. While she has met with her friends in "neutral" spaces such as picnics, thrift stores and walking around, she has not been able to meet with friends in their own homes. 
"I am excited to be able to be with my friends in one of our houses and be able to actually talk and spend time together," Greenway said. "I have missed the stuff I always took for granted like hugs and sleepovers that you can't replicate with social distancing."
Greenway remains hopeful that the pandemic will begin getting better, with the end of her senior year and graduation approaching. 
"Throughout this whole pandemic, I have felt like time has been running out for me to have quintessential high school experiences and to spend time with my friends before we all move away. I think all students are ready for this pandemic to be over but especially us seniors are trying to squeeze everything we can out of these last few months."
Leave a Comment
About the Contributor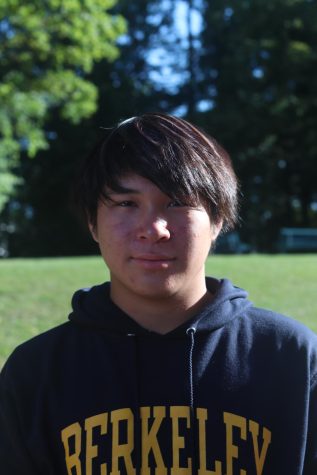 Adan Quan, Editor-in-Chief of Copy
Adan Quan is a member of the Class of 2023 and one of the Editors-in-Chief of  for Portrait. This is his third year on staff as a senior. He also reports...