Challenges to Championships
girls varsity basketball end a long and successful season
It was hard for Corrine Jones (11) and her teammates on the varsity basketball team to find optimism in a season drastically different from previous years. But the team continued to practice hard and work towards their goals for the year.
"I think the hardest thing was all those practices and not really knowing if or when we were going to be playing a game," Jones said. "It's really easy to just say you have something to do, or you can't make it to practice when we don't know if we're gonna play a single game. But we were all there every single day."
Last year's season was cut off at the Regional Finals, but that hasn't stopped them improving.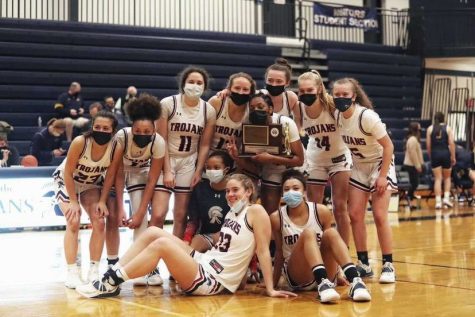 This year the team won the conference, district, and regional championships, and won 16 of their 17 games. A successful season led the girls varsity basketball team to the state quarterfinals, their only loss of the season being their final game against Hudsonville.
"What led us to much success is our chemistry from having played together l," and also our dedication to work on our game and conditioning outside of practice," Ella Miller (11), third year varsity player, said. "Our coaches led us to success because of their effort and knowledge of the game, and knowing what it takes to run a great basketball program."
Though it was a good season, the team faced challenges they'd never had to deal with before in the wake of COVID-19. Team dinners disappeared, as well as going to support their friends on the boys team, while masks were put in place. 
"I'm proud our team did as good as we did and continued to show up to practice and work hard even when it got bad," Payton Baker (11) said. "The hardest thing for us was getting through covid and making sacrifices so we wouldn't get covid."
None of the team returned to in person school to lower their exposure to the virus and decrease the chances of getting a case on the team. If one person got sick, the entire team could be compromised and the season put on hold.
"I'm proud of how we have overcome so much adversity this season," Allie Mayes (12) said. Mayes will continue playing basketball at Calvin University next year. "Every year there are challenges, but this year with covid it made it even harder. But we stuck together and had a pretty good season."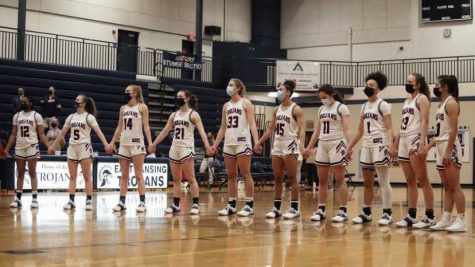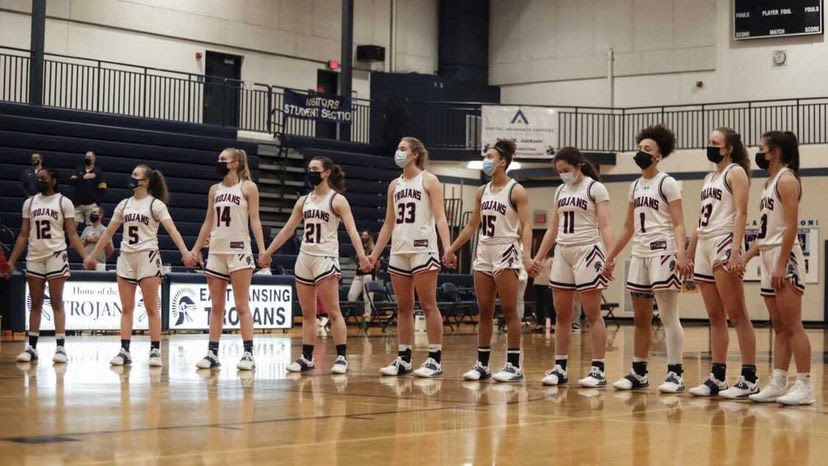 Despite the triumphs of their season, it was still hard for the team to see it come to an end.
"The end of the season was super emotional," Gracie Emerson (11) said. "The most emotional part was realizing I wouldn't be able to continue playing with the same girls for the rest of the week and it took a little bit of time for that to set in. Although all that was sad, I was also super proud of everything we did" 
The team has even higher expectations for their next season, and plan to continue working hard to meet their goals.
"As for next year, my hopes are that we will win a state championship," Miller said. "I think next year will be another successful season but with a happier ending." 
View Comments (1)
About the Contributor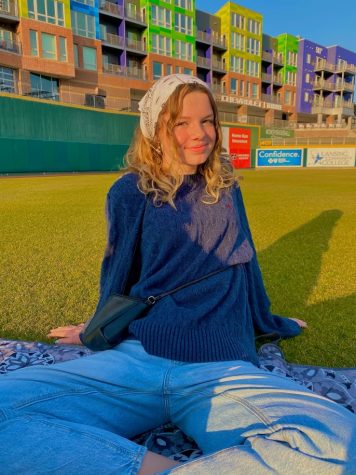 Willa Cornillie, Editor-in-Chief of Copy
Willa Cornillie is a member of the Class of 2023 and is one of the Co Editors-in-Chief for Portrait. She has been on staff since her freshman year during...