A Clean Slate
The district's teachers' union holds election for first time since 2019
Disclaimer: An original, un-updated version version of this article was in the print issue of Portrait, distributed on May 27.
The East Lansing Education Association (ELEA), East Lansing Public Schools' teachers' union, will hold its Executive Board election between May 24-26. All the spots, except building representatives, are open. This includes the positions of president, the four vice presidents, secretary, treasurer, membership chair and diversity/equity/inclusion representative.
According to the union's website, elections take place every year, with the positions that are up for election alternating each year, so that there is never a completely new board. This year, half the positions will be elected for three-year terms, with the other half only having two year terms. The website explained this decision, saying the reasoning was that the union would have to do this to return to the normal, alternating election schedule. Evan Johnson (10) agreed that this alternating election model was an effective one when asked about the election.
"I feel that's a pro in order to achieve success," Johnson said. "Even though they weren't able to vote last year, good on them for getting right back into it as soon as they could.
The teacher's union is planning on holding elections online, through the Michigan Education Association (MEA) website. The election will be open for three consecutive school days on the website, with the winners announced the day after the election closes, May 27. All union members "in good standing"- those who have paid their dues-  will be given the opportunity to vote via a link emailed to their school email, according to the ELEA's official election timeline.
However, according to an email sent out to teachers on May 19, only 161 out of 234 members are actually eligible to vote- that's 73 members, or 31.2 percent of members- who can't vote, mostly because they haven't paid their dues.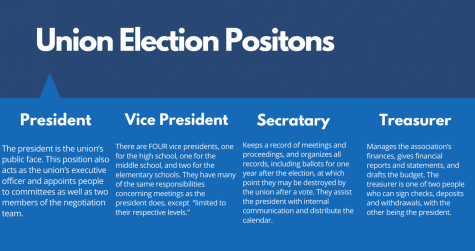 Most positions aren't contested, with all the positions, except membership chair and secretary, having only one candidate running, or two options but with two spots open. The positions of membership chair and secretary each have two candidates, with only one spot open for each. Janelle Orange, a MMS seventh grade science teacher, and Jacqui Caroll, an english and photography teacher at ELHS, are running for membership chair. Heather Mueller and Lisa Judkins, both life science teachers at ELHS, with the latter also being a geometry teacher, are running for the position of secretary. The lack of competition isn't necessarily a bad thing, as Johnson pointed out when asked.
"I think that these elections should be less competitive and more about finding a competent person to be in that area," Johnson said.
Four positions were already vacant prior to the election, according to the ELEA's site: president, one of the elementary vice presidents, the diversity/equity/inclusion representative, and the membership chair.
Outgoing board members are supposed to give information relating to their position to their successor(s), according to the election timeline. However, it is unclear what the union is planning to do about not having anyone in these positions to give advice to the new board. 
This should not pose a problem for the elementary vice president(s), as the outgoing board has one of two elementary vice presidents, and there are other members of the union with experience in the various positions, including several candidates for board positions. For example, Dominique Schafer was the membership chair in the 2019-2020 school year and is now the candidate for diversity/equity/inclusion representative, 
The former president, Timothy Akers, advised in an email to Portrait that the new executive board should be prepared to make personal sacrifices when asked if he had any advice for new executive board members.
"Far too many elected union representatives take on their role without a full understanding of the fact that they protect the livelihoods of the teachers they represent," Akers said. "Elected representatives have a responsibility to be available to their members, to shuffle their schedules to make meetings, to be willing to enter potentially adversarial situations with administration without fear of personal repercussion."
The newly elected board members will take their seats on the board two weeks before the start of school in the fall, and must hold their first meeting before Oct. 1, according to ELEA's description of board positions, and will hold these positions until the start of the next school year.
Update: Since publishing, the winners of the election have been announced by the ELEA. Only 114 out of the 161 eligible members voted. The winners are:
President: Norm Scott (MMS)
High School Vice President: Mark Pontoni (ELHS)
MMS Vice President: Chris DeHaan (MMS)
Elementary Vice Presidents (2): Renee VanRemmen (Marble) and Amanda Schneider (Pinecrest)
Treasurer: Mark Pendred (ELHS)
Secretary: Heather Mueller (ELHS)
Diversity/Equity/Inclusion Representative: Dominique Schafer (MMS)
Membership Engagement Chair: Janelle Orange (MMS)
Leave a Comment
About the Contributor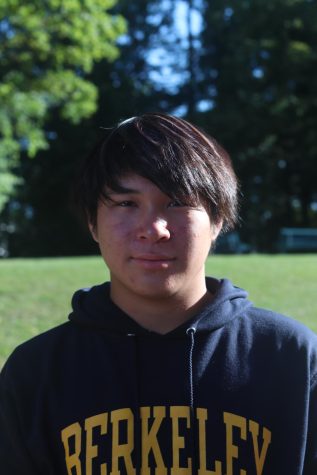 Adan Quan, Editor-in-Chief of Copy
Adan Quan is a member of the Class of 2023 and one of the Editors-in-Chief of  for Portrait. This is his third year on staff as a senior. He also reports...