Piloting Change
For almost three years, Superintendent Dori Leyko struggled with the idea of hiring a Director of Equity and Social Justice. She was nervous about adding the position because she thought it might take the onus of creating an equitable school environment off the administration and teachers as a whole.
But in April of last school year, the need became more apparent when a parent brought up a problematic assignment during a school board meeting. 
In the assignment, middle school students were asked to imagine themselves as enslaved persons, and the assignment included vivid imagery and questions about how they would respond to various situations that enslaved persons found themselves in.. 
"Usually I get to congratulate [my daughter] when she brings home an A, but instead receiving an A on this assignment from her white teacher made me furious," parent Chelsea Wade said at the April 12, 2021 school board meeting.
In the meeting, Superintendent Dori Leyko clarified the procedures that would be put in place to respond to the curriculum and addressed how it was emblematic of a systematic issue with the board of education certified curriculum.
"As a district we own it and we know we need to do better," Leyko said at the meeting. 
This was not the first time the school has worked on new equity initiatives, but it did help the school move forward. Since that meeting, she's been working to initiate the creation of staff social justice teams, which would be prepared in a four-session training called the core course which helped them work internally as a district on equity.
These social justice teams started meeting at the beginning of this school year, and the administration hired Director of Equity and Social Justice Klaudia Burton.
Klaudia Burton, who taught high school science last year, was hired in July for the position. According to her and Leyko, Burton's day-to-day duties are still being established, but the overall goal entails making sure all buildings are equitable for all students.
"The creation of this position was to have someone to be able to spearhead and lead that work," Burton said.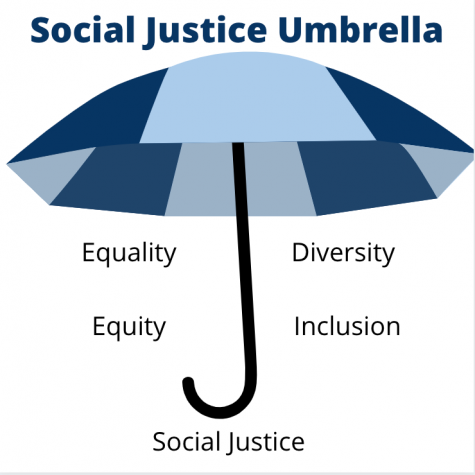 While Burton is the primary director of equity and social justice, Leyko and Burton said it is important all members of staff work together to create an equitable environment for all students and staff.
The school started training with the Justice Leaders Collaborative, a program run out of Washtenaw county which helped spearhead the program, as well as other training. Because of these trainings they started taking steps towards having social justice teams.
"I think it kind of became a little more clear that we could have both," Leyko said. "We could still have someone who was facilitating and leading this work, and still have the responsibility and accountability and ownership at each building."
With teachers being asked to take accountability for social justice, Burton wants to make sure every teacher and staff member in the district is involved. 
"It's a collaborative approach," Burton said. "It's not just all about me. I want to highlight and shine on our teachers." 
Burton's goal is not to give top-down orders, but to create a system where every school in the district is represented. Every building has a social justice team, with the goal of keeping in touch with the community at that school.  Each social justice team has a leader, but each team is ultimately a group of teachers and administrators.
At ELHS, the social justice team leader is Spanish teacher Diana Sanchez. According to Sanchez, her job is to act as a liaison between Burton and the high school staff and to communicate initiatives out to the building.
Sanchez has been working adamantly even before the equity initiative to increase the schools' awareness of social justice and equity issues. In the 2019-20 school year, she began suggesting changes to administration be made to almost all curriculum. She has also worked towards social justice prior to the teams, including being the club advisor for Latinx Student Union and Students for Environmental Action.
One initiative she started prior to this role but is being carried out through the social justice team is "Trojan Talk." Students filled out a Google form at the beginning of the year where they had the opportunity to put their names, pronouns and other personal information that teachers should know. 
Another project she is working on is helping the staff audit their curriculum and classroom spaces to make sure they are equitable and welcoming to all students. 
The staff is using a variety of tools to audit the classrooms. One tool that they are using is called the Education Justice Assessment and Transformation Tool (EJATT), which prompts questions about the curriculum for teachers,  as well as a "Culturally Responsible Scorecard" which helps teachers become aware of communities they may be excluded from their curriculum. They worked on these tools and filled them out during the late start on Wednesday, Sept. 22.
"It is something that's going to allow us to really ask ourselves the right questions and figure out where we are lacking equity or representation," Sanchez said. 
According to Sanchez, the staff overall has been very receptive to the new changes, even though it has required them to look for flaws in the curriculum they have been teaching for a long time.
"I think the vast majority of our staff is very committed to diving in deep in that way and making sure that even if we've done something a certain way for a long time that that doesn't mean there aren't areas of growth," Sanchez said.
Leyko also seems enthusiastic about the new initiatives and is excited about the new things they have been learning, including citing small changes she was making based on the training.
"We want to ensure with the forms we send out with the language we use that it feels inclusive to those bringing multiple identities that intersect to our buildings every day," Leyko said. 
Despite this effort, students expressed a lack of information about the school's equity initiatives. 
"I knew that we had a new director of equity but I didn't know specifically of all the initiatives," said Co-president of Black Student Union Olivia Perry (12).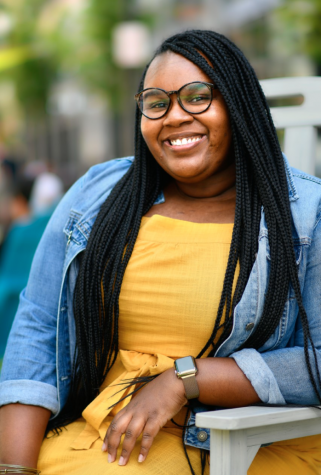 Similarly, Perry voiced concern that students were not adequately represented on the team.
"I hope that POC students and students with different backgrounds can be included more when it comes to decision making," Perry said. "Because how can you really know how to change a school to help students who, you know, have, have, have systemic challenges."
 About 72 percent of students responded to the form that Sanchez rolled out in the "Trojan Talk" initiative and were appreciative of the opportunity to share their pronouns and thoughts with their teachers. 
But while Perry said a form is a start, she believes it can only go so far in making true equitable change in the high school and district.
"[Becoming an equitable district] is going to take a while, and it's going to be a lot of change that needs to be made—especially since the school believes, or believed in the past, that we as a school have had a lot of equity and equality. But a lot of us students of color did not feel that way," Perry said.
Throughout her education, Perry has noticed similar problems. From the beginning of ninth grade, Perry has always seen a lack of equity in the school. She said she has had to teach her teachers about issues affecting black students and students of color and noticed fewer students of color in her advanced classes.
"I would like to see teachers who have a more of more of an understanding of [students of color]," Perry said.
Even with the rocky past, Perry expressed hope for the future, especially with Burton serving as the new director of equity and social justice.
"As she will start to settle into this position a lot of goodwill
come from it," Perry said. "She is definitely making a mark in the school."
Burton is also excited about the future.
"I'm super excited to be in this position, it's a weird place to be. I will say that I think that East Lansing is doing a tremendous job and was doing a tremendous job before I got this position," Burton said 
Ultimately Burton's main goal is to work towards making people feel supported and safe in their school community.
"We're committed to making sure that our students have equitable practices and places to be in their buildings so that they feel seen and they feel celebrated," Burton said.
Leave a Comment
About the Contributor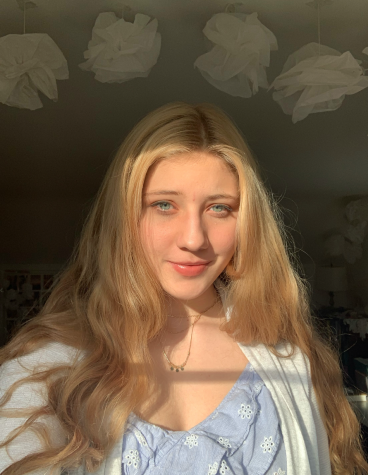 Marie Adele Grosso, Feature and News Desk Editor
Marie Adele Grosso is a member of the Class of 2022 and is the Managing Editor for Portrait. This is her second year on staff as a Junior. Marie Adele's...