Hitting their Stride
Cross country team creates community at the beginning of the season
At the beginning of this year's cross country season, the team kicked off practices with summer cross country camp, located in Pentwater, Michigan. The team not only improved their running skills but got to know each other between trips to sand dunes and ping pong tournaments.
"One of the most important elements [of being part of the sport] is the bonding," cross country coach Timothy Akers said. "That's where cross country is a lot different than other sports, when you play different positions everybody prepares differently. But everybody's doing the exact same thing in cross country. They're all running a 5K, so they all suffer together."
"Our team wasn't really as close as we normally are [last season], so the team dynamic was a bit off," Anna Delgado (11) said. "I think it did make everyone appreciate when we're together more now than before when it was just a regular thing."
Many members of the team still found ways to make last season a successful and enjoyable one, despite limited opportunities to get to know each other.
"During COVID, my teammates would still run together and we'd meet up outside," Gabe Benavides (11) said. "We got really close because that was the only people we'd see, and we'd see each other for two hours a day every day. Now we eat together and do things we weren't able to do last year."
This year, the team is once again able to do overnight competitions, which means the team has more opportunities for team bonding. For Molly Conlin (12), she enjoyed the opportunity to play ping pong with teammates at the overnight meet in Holland on Sept. 11.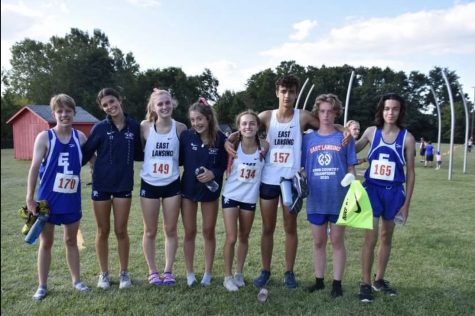 "We were all taking turns showing our lack of skills," Conlin said. "I like the community and all the people you get to know in all different grades that you wouldn't really get to know otherwise."
Aside from the returned sense of community, many of the team members are ready to get back to competing as normal and establishing goals for this season. Many hope to make it to States and have improved since last year. 
Matthew Zeleke (12), along with others, felt as though the pandemic had actually provided an opportunity for him to improve and train harder. His goals this year include wanting to get top 10 at the state meet, leading the team to the conference championship, win Greater Lansing and break 15:20 in the 5k.
"I think it [the 2020 season] helped me because I was really focused on what I had to do," Zeleke said. "I had limited distractions. And with that, our team was really focused and it helped us become driven."
The team is looking forward to all the chances they will get to know each other this season through competitions and practices. But that doesn't stop some seniors from considering the long term future. 
"I think I'll definitely miss the team and the traditions," Conlin said. "Maybe not the running."
Leave a Comment
About the Contributor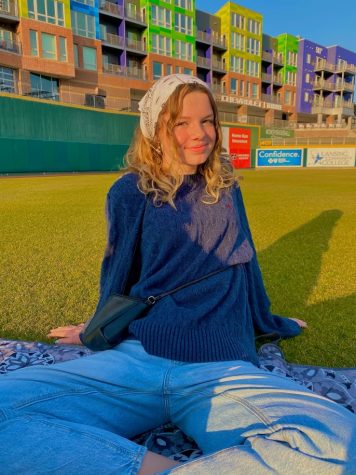 Willa Cornillie, Editor-in-Chief of Copy
Willa Cornillie is a member of the Class of 2023 and is one of the Co Editors-in-Chief for Portrait. She has been on staff since her freshman year during...