East Lansing Girl's Swim and Dive Team face DeWitt for Senior Night
Two undefeated teams, the East Lansing girl's swim and dive team and the DeWitt girl's swim and dive team, will face off on Oct. 21.
A win will grant them their first undefeated season in decades. It will also put them in the running to become conference champions. Sarah Bergdolt (10) has been swimming with ELHS since middle school and was the only swimmer on the team that qualified for the Michigan Interscholastic Swim Coaches Association (MISCA) meet.
"As a team, we have gotten a lot better," Bergdolt said. "It would be amazing to become conference champs. I think it's doable, and I really want to prove that we are capable of it." 
But according to coach Madi Zink, a win in this matchup won't be easy. 
"Dewitt is one of our more competitive meets and gives our athletes the opportunity to push themselves to race," Zink said. "Everyone will need to stop taking a walk in the park and swim and dive the way they are capable of." 
The team members have swam twice a day in order to get their yardage up for this meet. In the week leading up to the meet they swam for nearly 19  hours of practice. Additionally, the dive team learned new dives to add to their list. 
"We want our athletes to be in the best shape possible for the meet," Zink said. 
This meet will be bittersweet for the team because the season is coming to an end, and the last meet is senior night for the team's eight seniors. 
"Since it's my senior year, this will be my last home meet, so it's important to me that we do well," captain Natalie Seitz (12) said. 
The meet takes place at the ELHS pool at 6:00.
Leave a Comment
About the Writer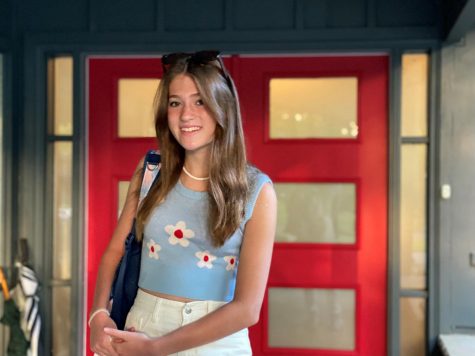 Holyn Walsh, Staff Writer
Holyn Walsh is a member of the Class of 2025 and one of the Staff Writers for Portrait. This is Holyn's first year on staff as a freshman. Holyn's...