Meet Chevy
The future therapy dog of ELHS gets to know the school
Alex Salinas (9) and Hunter Mogle (9) were excited to see 6-month-old Chevy back in the halls. And Chevy was excited to be back, springing in circles around students.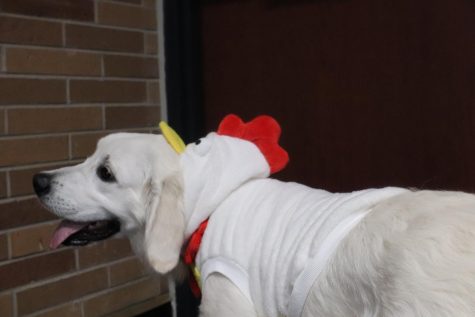 Chevy is Superintendent Dori Leyko's English Cream Retriever puppy. He has been spending his days exploring ELHS and meeting students.
"He can help people that feel like they're having a tough day, and maybe brighten up their day a little bit," Salinas said. "Whenever people see him in the hallway, they get like 'oh my goodness, like it's Chevy' and take pictures and stuff and get really happy."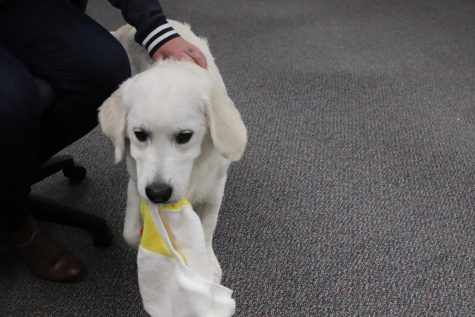 Chevy is training to be a therapy dog for ELHS, a certification that he can get once he's a year old. For now, he is acclimating to the school and getting used to stuff and students.
"He's been coming to work throughout the whole summer," Leyko said. "The breeder, who is a high school administrator in Indiana, owns Charlie's mom, who is also a school therapy dog. So he told me to start taking Chevy in all summer when he's little and when there's not kids in the building so he can start getting used to the building and the size and space of everything and the slippery floors."
The overall reaction from the student body and staff has been very positive. Students and staff alike can often be seen playing with Chevy in the halls or playing with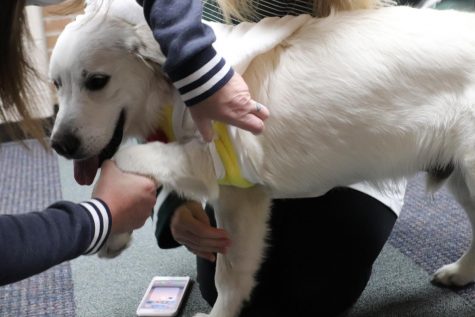 him outside during lunch. Leykos has always wanted a therapy dog in the school, and thought it was time to give it a try.
"I work so many hours and I'm gone so many evenings. I didn't think it'd be fair to get a puppy who would be spending a lot of time at home by himself in a crate. So I always would, I always wanted to have a therapy dog at school anyway, so I thought well, the only way I'm going to get a dog is if I'm not leaving it at home all the time. And I've always wanted to have a dog at school for the kids. 
"Next week, we're scheduled to go visit a fourth grade classroom over at White Hills because they're just finish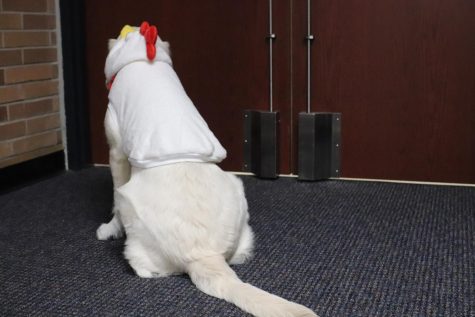 ing up reading Because of Winn Dixie," Leyko said. "So they invited us to come over and talk to the kids about his role as he gets older. So I hope that he'll still just be a friendly dog for kids to see in the hallway, but I really want him to be able to support kids."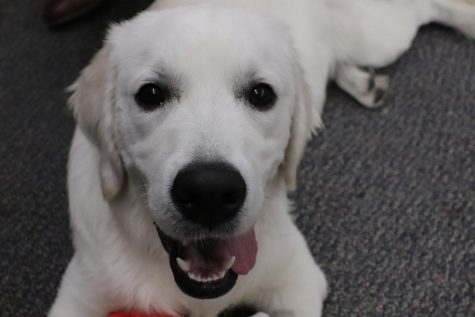 Leave a Comment
About the Contributor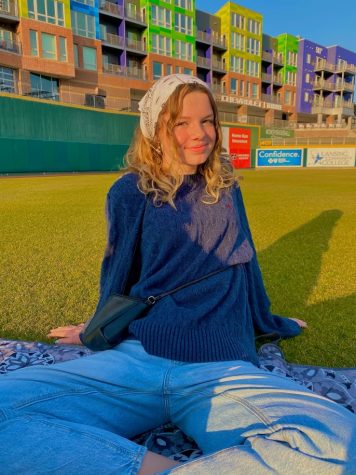 Willa Cornillie, Editor-in-Chief of Copy
Willa Cornillie is a member of the Class of 2023 and is one of the Co Editors-in-Chief for Portrait. She has been on staff since her freshman year during...