Equestrian team claims title of District Grand Champions
Ainsley Louagie (12) has been horse riding ever since her friend brought her to a pony camp when she was six. Now, Louagie rides for the two-person East Lansing's equestrian team, along with her teammate Talia Medina (9). The team may be small, also competing in the smallest division of the Michigan Interscholastic Horsemanship Association (MIHA). However, their lack of manpower doesn't hurt their ability to succeed in competitions.
The team fought hard to win the title of District Grand Champions for District 4 of the MIHA in Sept. 2021, winning by only between five to ten points. Louagie was excited when the team found out they won.
"It was very close so it was very exciting," Louagie said. "We worked really hard, and I think it was really cool because it was my senior year, so it was really cool because we got to move on to Regionals."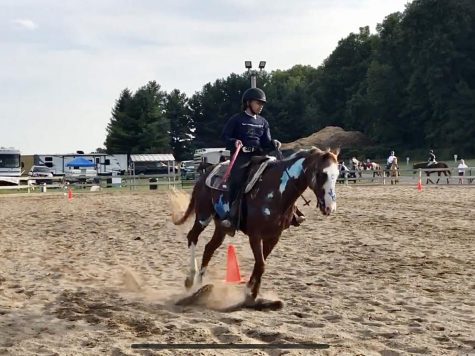 For her teammate Medina, the experience was more stressful, but it was still a very pleasant surprise for her once the team won.
"You had to get it right," Medina said. "And it's kinda hard because there's a lot of competitive people."
Louagie competed in several events at both Regionals and Districts, including fence jumping, patterns, an obstacle course, and speed events. She won in two classes, and placed third in another, with all three events being events Louagie is confident in. 
By the time Regionals closed, the team was in fourth place, meaning they were not eligible for the State competition, which is reserved for first and second place.
The team itself is relatively new, and has only been around since Louagie came to the high school. She competed in middle school, in combination with another school, but once she reached high school she was required to compete with her own school. Louagie asked her trainer to become her coach, resulting in the high school getting an equestrian team. For the two years that Louagie has been on the team, one other person has joined as well. 
Medina was initially unaware that the high school had a team, and only found out once her coach told her she should join. 
The team didn't change their practice regimen much in preparation for the district competition, according to Louagie. Both equestrians were given new patterns, or sequences of movements for the horse to perform. Unlike how other sports tend to practice at the high school, the equestrian team practiced individually, and they continued to do so until the district competition. This is because Medina practices almost every day, while Louagie practices five times a week in separate locations.
At competitions, they put the patterns they practice to use. The sport is split into classes and disciplines, essentially different events, such as jumping over fences, as well as saddle-seat classes, western horsemanship, English equitation and speed events like racing. Points are given out based on the placement within the event, with first place receiving eight points and eighth place receiving one. Teams are allowed a certain amount of entries or slots for events. 
In the few years since its creation, the East Lansing's equestrian team has found success with their win in the district championship. In the future, the team hopes to continue to grow and succeed.
"I hope we at least make it to States one time," Medina said.
Leave a Comment
About the Contributor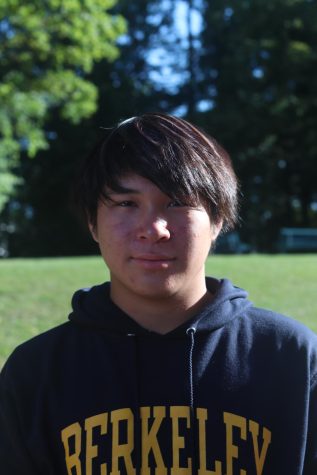 Adan Quan, Editor-in-Chief of Copy
Adan Quan is a member of the Class of 2023 and one of the Editors-in-Chief of  for Portrait. This is his third year on staff as a senior. He also reports...