There goes my hero
Alex Arnold goes from watching the Cross Eyed Strangers from the Audience to playing on stage with the band
"How am I ever going to be that good?" Alex Arnold (11) wondered, as he watched Thomas Hanley ('21) play the drums for the local high school band, the Cross Eyed Strangers.
Not long after, Arnold assumed his position as the band's drummer when Hanley, the band's former drummer, stepped down after graduation.
"I called [Hanley] first, because I asked him, 'Did you tell Wes [leader of the Cross Eyed Strangers] that I should play?'" Arnold said. "I was so nervous."
Ever since that call, Arnold has played drums alongside fellow musicians and ELHS students, Rowen Blesing (11), Wes Millhouse (12), Ty Morrison (12) and Nick Langford (11).
"We have so much fun, it's always something to look forward to," Arnold said. "If you have a lot of emotions or anything like that, it kind of just goes away when you're playing." 
On Sept. 23. Arnold had a "legendary experience" playing the Ann Arbor venue the Blind Pig. His favorite song he played was 'There Goes My Hero' by the Foo Fighters.
 "When we got there, they had everything ready for us," Arnold said. "I got down on stage and they were micing me up, I basically had to do nothing."
Still, Arnold sometimes questions himself like he did while watching Hanley just months ago. 
"I still kind of feel like I'm filling in for [Hanley]," Arnold said, "and he's still the Cross Eyed Strangers drummer." 
Although Arnold sometimes feels like filler, he has made valuable friendships with his bandmates. Jeremiah Ligget, the former bassist, also left the band after graduating. But before he left, Arnold said that he and Liggett had a bond when they were playing together. Drummers and bassist's musical relationship is a special one, being the instruments that hold the rhythm together. For the Cross Eyed Strangers, the relationship is very real.
"I got pretty close to him [Liggett], and he's a good friend," Arnold says "When you're playing music, you can basically hear nothing but yourself and a bunch of guitars, but you can feel the bass." 
Despite still feeling like a filler, Arnold remains optimistic, and plans to stick with his passion for drumming.
"I'll probably just continue drumming for whoever needs me," Arnold says. "I think I'll keep it with me for my whole life."
Leave a Comment
About the Writer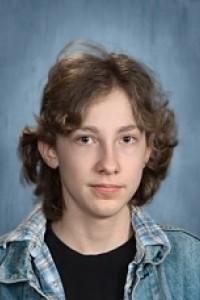 Campbell Schuesler, Staff Writer
Campbell Schuesler is a member of the Class of 2024 and one of the staff writers for Portrait. This is his first year on staff as a sophomore. Campbell's...