Working On The Work
Quiana Davis knows what it's like to struggle. She knows what it's like to be on probation and on food stamps. She has been a teenage mother and has seen real poverty in her own life. 
She knows that the struggle is real. But getting out of it is possible.
Davis was hired as an associate principal this year after being a Culture and Climate consultant for Calhoun Intermediate schools. Having been in education for 17 years, Davis has served previously as a behavior interventionist in Lansing and Battle Creek school districts. She has two master's degrees in administration and clinical mental health counseling. But she appreciates the opportunity to work at a district with different demographics than where she has previously worked.
"This is one of the most diverse populations I've ever gotten the opportunity to work with," Davis said. 
Part of the reason she also came to the district was to take part in social justice work and district wellness initiatives that she hasn't seen in any other districts she's worked for. 
"Those are things that add value in this district as leaders that are having these conversations, which gives me a greater belief that it can actually manifest," Davis said.  
Davis loves working with students here because high school has always been something she's liked. 
Being able to inspire young people as they get ready to step into the real world is a very challenging thing, but Davis loves to help with it. Being able to have the opportunity to have a team where she doesn't have to do everything herself is something she said she is blessed to have. 
"For this age group I think it's a hard time in life," Davis said. "A big part of what I do is I appreciate you guys being here and getting up every morning even if you don't want to or have the motivation to." 
As a part of her job, Davis works with students and helps them with their struggles. Iram Jat (10) appreciates Davis because she has helped her solve conflicts and has been kind to her.
"I had to go down to her office because she called me down for my attendance and she would walk me to my classes when a lot of stuff was going on in my personal life," Jat said.  
Additionally, Janie Shappell (10) feels super comfortable with telling Davis her problems because she listens to her. 
"She made me feel really heard and she just really acknowledged my problems," Shappell said.
Davis has helped many students at ELHS with their problems. 
"One of my teachers takes points off of our grades for going to the bathroom and it upset me because it affected my grades and my future," Shappell said. "So I went to the office and got a quick meeting with Mrs. Q, she was super understanding of my situation and made me feel heard." 
Being able to connect to the staff members at East Lansing is a big deal for Davis because when she was a student, if she couldn't find comfort at home, there was always a positive person for her at school. In her work, she's trying to be that positive person for someone else.  
"She inspires me to do something about my problems. She inspires me to speak up when I wanna be heard," Shappell said. "I just think she's a really good influence on everyone in the school and gives me a reason to say something."
Davis hopes to be able to listen to not just students but staff too.
  "We usually have really good collaborative conversations and we try to look at data to make sure that what we're doing is a data informed decision and not just based on an emotional state," Davis said. "So trying to get the best input and feedback from the community to make sure that we make the best decisions possible." 
While she wants to help everyone, she knows it's hard to make everyone happy because she can't force it on them so sometimes they have to make hard decisions. 
"We just don't let [anything happen].  We monitor, we check. We might have to revamp and relaunch. Whatever the case is, we do the work and we work on the work,"  Davis said.
Leave a Comment
About the Contributor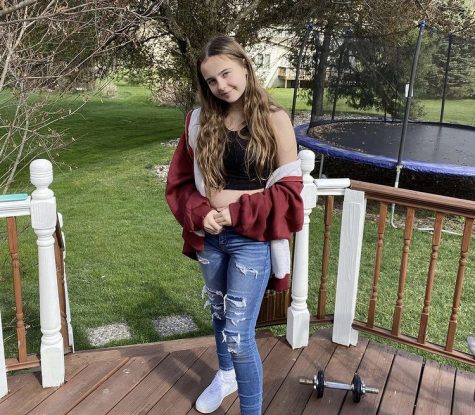 Jade Westjohn, Staff Writer
Jade Westjohn is a member of the Class of 2024 and one of the staff writers and copy editor for Portrait. This is her second year on staff as a junior....