Lessons of a Lifetime
NHS members use volunteering to make a difference in their communities
Eliza Morman (11) has been figure skating since she was four years old, when she took a "Learn to Skate" class at Suburban Ice. Because she comes from a hockey family, her parents encouraged her to try out the ice. She's loved skating ever since.
Now, Morman helps teach the same class that she first learned to skate in as part of her volunteer hours for the National Honor Society.
"Teaching the little ones is cool, because I remember I was in these programs before," Morman said. "It's a major memory from when I was little, so it's really cool to be on the flip side of it."
The National Honors Society (NHS) is a nationwide organization for high school upperclassmen. Students selected must exemplify leadership, service, character and academic achievement, and they are required to do a certain amount of volunteering hours that show personal commitment. Morman gets to enjoy her passion, while also getting hours.
Morman is not the only one using her knowledge and talents of a sport to help younger kids, and gain NHS volunteering hours. Other students have also taken upon themselves to use their own skills, experiences, and passions to volunteer in their community.
Austin Wilson (12) has a similar situation. He is a varsity tennis player who volunteers at the Todd Martin Youth Tennis Program. He has been playing for eight years, and he himself attended Todd Martin when he was younger.
"I think it's really cool because there's some familiar faces from when I [was] going to Todd Martin," Wilson said.
Now, he gets to teach new tennis players the fundamentals of the sport, while getting his volunteering hours.
NHS encouraging students to volunteer has not only helped students share their skills while helping others, but also build new skills.
When Jinyoung Jeong (12) saw the signup to volunteer tutoring a middle school student in math, she thought it sounded like a worthy endeavor.
"It's been a really interesting experience," Jeong said. "Honestly, I've learned a lot of my own math skills through helping her."
Jeong has gotten the opportunity to not only help younger children with their schoolwork, but she has also learned the valuable impact that helping others has on not only them, but herself.
Jack Crotteau (11) had a similar experience volunteering at the Greater Lansing Food Bank over the summer. There, he organized food and donated it to those in need.
"Helping out others was not only fun, but also rewarding," Crotteau said. "I got to meet new people, and really get out there."
From teaching little kids to skate to donating food to the elderly, students from all over the school have learned the same lesson: making a difference in their community, no matter big or small, makes them feel good.
Morman is very happy with her decision to join NHS and volunteer, and now plans to teach skating through college.
"This is something that I will keep with me for a lifetime." Morman said.
Leave a Comment
About the Contributor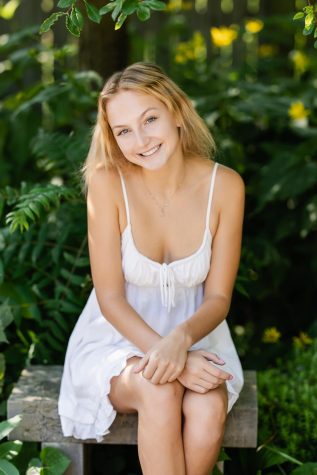 Frankie Calabrese Barton, Social Media Editor
Frankie is a member of the Class of 2023, and is the Social Media Editor and a staff writer for Portrait. This is Frankie's second year on staff as a...