The Singing Stepsister
Student finds joy singing in the school musical, "Cinderella"
Singing started out as a hobby for Rachel Capriotti (9) over the summer, because her empty house has good acoustics. There were boxes everywhere, and nothing to do as her family prepared for their move from Pennsylvania to Michigan. She took her abundance of free time, and learned a new skill. 
Capriotti plays violin, and she has always loved musical theater, so she decided to learn to sing. Six months later, she scored a role in ELHS's upcoming musical, Cinderella. 
This is Capriotti's first theater production ever. She plays Charlotte, one of the evil stepsisters. It's difficult moving to a new school, especially as a freshman, but theater, as well as swimming in the fall, have helped her adjust.
"Everyone is really nice," Capriotti said. "They're willing to give me tips, because I've never done it before."
One person Capriotti has grown close with through the theater program is Anna Sarinopoulos (10), who plays the Evil Stepmother. The two have become close friends through playing a mother and daughter in the musical.
"The thing I like about theater is that you learn to admire everyone and their talents." Sarinopoulos said. "Rachel, playing one of my stepdaughters, is so sweet and such a talented singer."
Despite her singing skills, Capriotti has spent most of her life as a violinist in the orchestra. However, she has always loved Broadway and musical theater. 
"I was like, you know what, I really want to sing it," Capriotti said. "I could play the background music and everything, but I wanted to try [singing]." 
So, during her family's move, instead of practicing violin, she sang songs and performed skits for her family.
Capriotti also has a twin sister, Madalyn Capriotti (9), who she credits her skills of playing a "mean step sister" to. Aside from that, though, the two are very close. 
"I used to be really shy," Rachel said. "Being able to project myself, and not be shy about certain things, I sort of practiced that with her and I didn't really realize it."
She also uses her love and knowledge of orchestra to relate to the musical more. 
"It's really nice, because I like to do more classical things," Rachel said. "'Cinderella' is a pretty classical musical. There's also lots of orchestra stuff. Even though I'm not playing in the pit, I love listening to it."
The musical will be showing throughout the second and third weekends of March. 
"I like my role, and I'm so excited for this production," Capriotti said. "It's going to be a bit challenging, but really fun." 
Leave a Comment
About the Contributor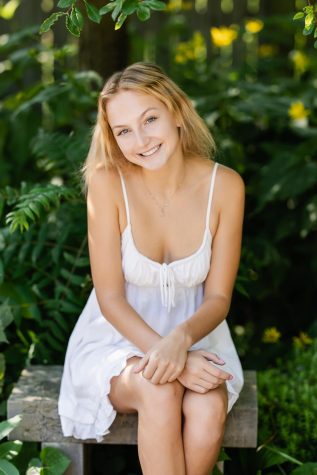 Frankie Calabrese Barton, Social Media Editor
Frankie is a member of the Class of 2023, and is the Social Media Editor and a staff writer for Portrait. This is Frankie's second year on staff as a...