Closing the Show
Spotlight falls on seniors preparing for spring solos
Navigating the bustling classroom, Jinyoung Jeong (12) steps toward the front and props her music on the stand. As the orchestra director calls for the class's attention, Jeong raises her instrument in preparation to begin her solo. After years of playing among her peers, she'll be the one to lead them.
"It's something that I've always wanted to do, to play with a full orchestra," Jeong said. "I think this is one of the only chances I'll get in my life to do it."
The rehearsal is one of many, leading up to the senior solo concert on Feb. 24. The concert is an annual event at ELHS, and will feature the musical performances of various seniors. 
Jeong has been hard at work on a piece by Mendelssohn, specifically his "Violin Concerto in E minor", one of the most played concertos in the world. While the piece is challenging for Jeong, the technicalities aren't the hardest parts for her. 
It's kind of tough to put your own spin on it." Jeong said. 
Her senior solo is also unique because she'll be playing with a full orchestra, whereas typically a solo is played on your own or with an accompanist.
"[When] you have people that are backing you up, then you have to work to make sure that they can follow you." Jeong said.
And Jeong isn't the only one playing with a full orchestra. Constance Chen (12), also plans on doing so.  She's played in the orchestra throughout high school, and is excited for the opportunity to play her solo.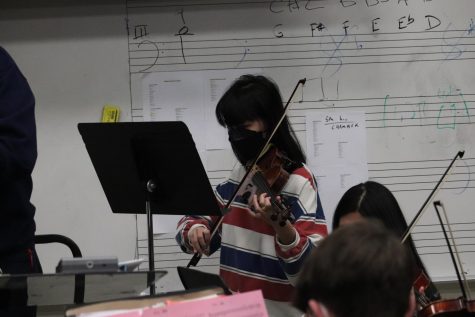 "It's really nice, playing with the orchestra, because they're really good," Chen said. "Sometimes keeping up with them is tough, but so far it's gone well."
For the concert, Chen is playing Mozart's "Violin Concerto No.4 in D major" on the violin. She has been practicing since before COVID-19, as the piece is regarded as requiring a high level of skill. It also has a difficult cadenza, which is when the soloist plays a part of the music completely by themselves.
"At first, I didn't really like it," Chen said. "But as I practiced it and got familiar with it, I started to enjoy it more."
Liam Marzorati has also been preparing for his solo. He plans to play "Scherzo Fantastique" by Alfred Reed on bass clarinet. The piece stands out from Marzorati's other experiences with music at the high school.
"Playing by myself isn't something that I usually do," Marzorati said. "Typically I don't play outside of a group."
Being able to play something that he could pick was also something that interested Marzorati, as most music for concerts is determined by the band director.
Marzorati also plans on continuing to play the clarinet throughout college and possibly past college. So this opportunity is an important stepping stone for his musical career, because an experience as a featured player can be important in the musical field.
"It allows more expansive performing and is something that I have wanted to do," Marzorati said.
All in all, senior solo night is special to many seniors. The concert is designed to showcase the talent of the class, and the seniors are preparing to do just that. It will be dedicated as a finale of their time as musicians at ELHS.
"It's the culmination of my high school musical career." Jeong said.
Leave a Comment
About the Contributor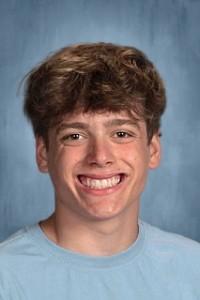 Donald Keough, Visual Editor
Donald Keough is a member of the Class of 2023 and the visuals editor for Portrait. This is his first year on staff as a junior. Donald's favorite thing...