School board confirms mask mandate despite new health department guidelines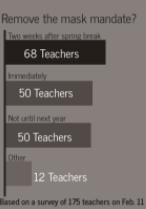 The Board of Education met on Feb. 28, where they decided to keep the mask mandate they approved at their Feb. 14 meeting until after spring break, when they will re-evaluate. An email was sent out to East Lansing staff and students relaying this information.
Following this, the Ingham County Health Department (ICHD) rescinded the order that required masks in schools, effective midnight Feb. 19.
Leyko acknowledges that the continuation of the mask mandate is a controversial topic and might not be the desired outcome for everyone, but it is a needed sacrifice at the moment.
"I acknowledge that there are strong feelings within our school staff that lie on both ends of this spectrum and everywhere in between," Leyko said. 
According to Leyko, 240 individuals from the teachers union completed a survey that was sent out on Feb. 11 by social studies teacher Mark Pontoni.
According to the teacher's union survey, Pontoni asked when they thought the mandate should be lifted. In the responses to the survey, 80 percent wanted to keep the mask mandate, while 20 percent didn't. 
Leyko also gave them the opportunity to give her feedback if they wanted to. 
"They requested to continue masking," Leyko said. "They thought that maybe it was just a little too early to pull off the mandate."
According to the email from Leyko following the board meeting, the school board expressed a number of concerns with returning to mask-optional school. Without universal masking in place, unvaccinated individuals who happen to be in close contact with someone with COVID-19 would be required to wear masks for ten days. Those who test positive for COVID-19 could return from quarantine after Day five, with a requirement to wear a mask on days six-to-ten.
In addition, the distance for close contact with COVID-19 is six feet without universal masking. With universal masking, the distance for close contact with COVID-19 is only three feet. The board is hoping to protect district families who have children under the age of five or immunocompromised individuals in the home who cannot yet be vaccinated. 
While the board voted to keep the mandate, they will come back after spring break and reevaluate due to concerns about traveling during the break.
"So at that point, the board would come back after spring break and look at the case rates we evaluated," Leyko said.
According to Leyko, what ELHS has done has been working quite well, including keeping in-school transmission rates low and not having canceled days of in-person learning this year. 
However, not everyone agreed with the decision to keep the mandate. In a Facebook post following the meeting, members of the "Support Public Education in East Lansing" group had conflicting feelings about the carrying on of this mandate.
 Jennifer Yared Chenault, a parent of an East Lansing junior, is a member of this group and thinks that schools should be masked until the end of the year.
"We will never be at zero COVID-19 and we will never be 100 percent vaccinated," Chenault said. "We can't keep hoping or fooling ourselves into believing anything different."
However, Brittani Hall, a parent of elementary schoolers in the district, wants the mask mandate to be lifted.
"They should have changed it," Hall said. "We don't celebrate student achievement and 
we don't talk about anything except COVID-19."
English teacher Abby Kaufmann also had strong feelings about the continuation of this mandate.
"With only 11 weeks left of school, why not just finish out the school year with masks and start fresh in the fall," Kaufmann said. "It's something that we've carried throughout the whole year so we should just reevaluate in the summer."
Although case rates are going down, East Lansing is in the highest category of transmission in the county. That being said, ELPS will maintain its mask mandate and readjust in mid-April, a couple of weeks following spring break.
"Continuing the mask mandate in schools is the best way we can increase the opportunity to provide in-person instruction to all students every day," Leyko said.