Hoping for hats
Senior team looks to win flockey championship after two years of canceled tournaments
Every member of The Herd remembers their freshman year flockey playoffs. Their team was just seconds away from winning a game against The Kahunas, a junior team, and making it to the championship. The whole gym was cheering—that was, until The Kahunas scored a point in the last couple seconds, tying the game and then beating them in overtime. 
Spencer Powe (12), a member of The Herd, recalls that though they lost, this still gave the team a glimpse at what it would be like to "win hats." The team is now in their senior year.
"That experience definitely gave me the drive to win," Powe said. "We also just want to have fun. We're usually very tired on Saturday mornings, but yeah. We have fun."    
Flockey, or floor hockey, is a time-honored tradition at ELHS. Any student can assemble a team, and the teams play games on Saturday mornings. After six weeks, teams compete in a tournament, with separate brackets for boys and girls teams. The winners receive baseball caps embroidered with "East Lansing floor hockey champions" to mark their success, thus coining the phrase "winning hats".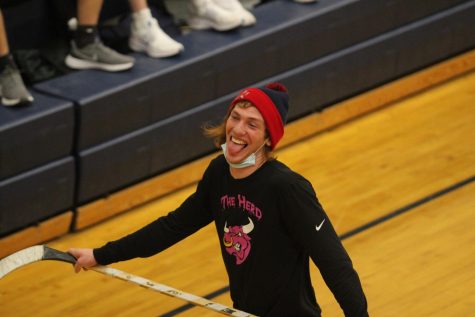 Flockey has returned this year after having been canceled mid-season in March 2020 due to COVID-19, and not happening during the online 2020-2021 school year. Despite changes, like new spectator limits and the absence of food, upperclassmen teams such as The Herd are trying their best to bring back the "flockey hype" and the atmosphere that they remember. 
"I'm just happy to get the atmosphere back,"  Powe said. "It's even more fun, now, as an upperclassman. We were always treated like clowns as freshmen, and now we get to treat [the now-freshmen] like clowns."
Flockey got off to a slow start this year, with few people excited about it, or even knowing it was happening for the first few weeks. 
Dominic Edwards (12) and Sean Fleming (12), members of The Herd, recall sitting in Dunkin Donuts after the second week of games this year when Edwards had the idea to start a flockey Instagram account, in order to get people more excited. 
The account, run by Edwards and Fleming, posts everything from weekly team standings to "player of the week" and "team of the week." It gained over 200 followers in the past few weeks, and since its creation, each individual flockey team has also created their own team Instagram account. They engage in "beef" and lighthearted competitiveness in each other's comments. 
However, they have to try hard to remember not to make the slander too intense, due to the fact that multiple teams were suspended for Twitter bullying regarding the tournament in 2020.
"Running the account with [Edwards] is fun, because we both have the same desire to make flockey a big deal again," Fleming said. "We both remember how fun the upperclassmen made it for us freshman year and sophomore year, and we want to bring that back."
The Herd is the only senior team that has been around since their freshmen year, and like most flockey teams, they are all good friends. 
"I mean, we've all been friends since elementary school," Fleming said. "We're a friend group first, and a team second." 
Having been a team since freshman year, The Herd has perspective on what flockey is like for the new and only freshman team, Brown Town.
Brown Town team captain Thomas Stout (9) was excited about flockey after having watched his older siblings play for years. In the first couple weeks of the season, his team won two games, both against upperclassman teams. Stout was very excited about this, though they then fell into a losing streak for the next three weeks.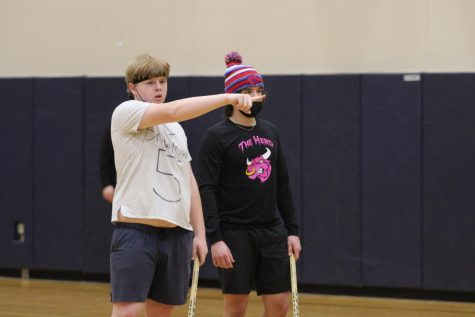 "[I'm inspired by] the upperclassmen teams," Stout said. "We don't beef much with them on Instagram, though, because we know we aren't good. We mostly just try to be funny."
The flockey final tournament takes place this coming weekend, March 19. Teams, freshman and senior alike, are looking forward to proving their capabilities.
"Seeing Brown Town now, they kind of remind me of us freshman year," Fleming said. "We saw the senior teams our freshman year and sophomore year. Now we want to be that senior team and win hats."
Leave a Comment
About the Contributor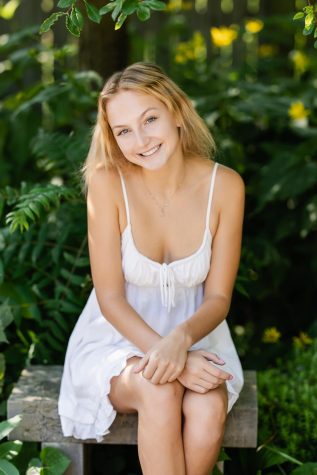 Frankie Calabrese Barton, Social Media Editor
Frankie is a member of the Class of 2023, and is the Social Media Editor and a staff writer for Portrait. This is Frankie's second year on staff as a...