Anti-abortion activists surrounded ELHS
As students poured out the doors at 2:35 p.m. on March 14 they were confronted by plastic foldable signs with images of blood and dismembered body parts, and words like "preborn human," as well as images claiming they were pictures of abortion at different stages of pregnancy.
"When I saw the signs, I kind of became a little bit disgusted," Khloe Smith (10) said. "You shouldn't be showing those, like, to children." 
All of the signs displayed a link to www.createdequal.org, a pro-life advocacy group based out of Columbus, Ohio, which is registered as a Religious Media non-profit. There were also several volunteers from their organization passing out pamphlets stating "are human rights for all humans?" 
In the pamphlets, there were links to protectlifemi.org and projectrosie.com. Protect Life Michigan, formerly Students for Life Michigan, is a group that specifically focused on speaking with students. Project Rosie is a "Crisis Pregnancy" center working to present options other than abortion to young or unprepared pregnant individuals. 
The representatives of Protect Life Michigan approached mostly female-presenting students as they were leaving the building and asked them about their views on abortion and tried to hand out pamphlets. 
Andrew Wells, the ELHS principal, came up to them initially thinking they did not have the legal right to be there, but after a few phone calls, he learned that they did. So he stood outside the door and attempted to defer the students away from talking to the representatives.
One of the representatives who was present is the executive director of the organization, Kristian Pollo, who alleged that over 300 high school students have abortion procedures daily.
"I think they're old enough to be educated about what that decision is," Pollo said. 
But many students noted that the incredibly graphic and "somewhat inaccurate" signs and pamphlets were unacceptable. 
"Anybody who comes to a high school as an adult, trying to spread their views like seems like praying and unfair, and I think that's automatically unreasonable," Alex Arnold, the co-president of Students for Gender Equality, said. 
But Pollo believed, despite the pushback, she was helping students by presenting this. 
"We really are here because we want students to understand to see, Pollo said. "We want to have conversations with them because the whole focus of our organization is educating people about something that's so far removed from our daily lives."
After school, parents also took to Facebook in outrage about the extreme imagery. On March 15, Tara Monterosso posted on the Support East Lansing Public Education page, "Is this allowed? This is near the bus pick-up at the high school. They are surrounding the school streets" along with a photo.
A slew of responses came in from parents, some of whom believed the representatives were exercising their right to free speech and others who felt it was unacceptable. 
Holly House posted "I'm all for free speech and protesting but this crossed the line. You do not force children to see those images and you do not solicit children with this kind of stuff."
Many students appeared to feel similarly yelling at them and engaging in debates with them, mostly appalled by their presence at a school.
"I was just disgusted that they think it's okay to do this. Because children are vulnerable and impressionable," Arnold said.
Leave a Comment
About the Contributor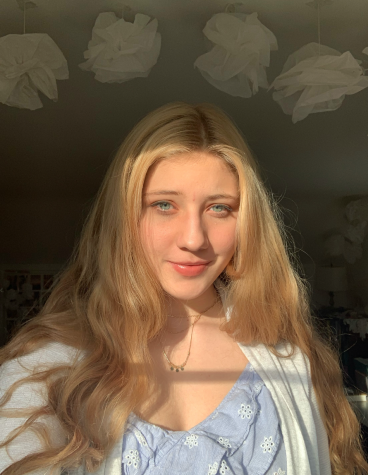 Marie Adele Grosso, Feature and News Desk Editor
Marie Adele Grosso is a member of the Class of 2022 and is the Managing Editor for Portrait. This is her second year on staff as a Junior. Marie Adele's...