Shaking the Stage
Mark Wood is coming to the high school for a one of a kind performance
Mark Wood is a world renowned violinist. He is one of the original members of the Trans-Siberian Orchestra, and has played alongside Billy Joel, Celine Dion and Steve Vai. He is the inventor of the viper, a six-stringed self supporting violin. Over his career, he has performed for thousands of people, and on April 29, he'll be playing with the ELHS and ELMS Orchestras.
Splicing both the classical and contemporary playing styles, the orchestras will be performing rock songs with Wood. The concert will be different from anything they've done before. 
"We've had other people conduct before, but never something like this," David Rosin said.
Rosin is the orchestra director and conductor at the high school, and helped bring the EYS, (Electrify Your Strings), program to the school district. The concert has been three years in the making, mainly due to COVID causing the concert to be rescheduled three times. 
"I try as a teacher to give the high school students some unique experience during their four years," Rosin said. "It's quite the opportunity, as it's fairly expensive to do something like this." 
The concert is funded by the East Lansing Band and Orchestra Program Association. Each year, part of ELBOPA's funding goes into a reserve fund which is used for opportunities like this. 
"When the reserve fund gets to a certain amount, we find a way to give it back to the kids," Rosin said.
Not only mark wood, but students like Jinyoung Jeong (12) will be playing electric instruments. Jeong is one of the students who signed up to play an electric instrument, and for the concert she'll be playing the electric violin.
"Rehearsing has been interesting," Jeong said. "Playing with a backing track and electric instruments is completely different."
Typically at the high school, students play more classical pieces. But this concert takes a different approach, featuring songs such as "Livin' on a Prayer," "Enter Sandman" and "Thunderstruck," along with other well-known rock music.
"The music is a lot more modern. It's very unique from what we normally play," Jeong said. 
Other electric instruments, like electric cello, will also be used.Graham Flynn shares the students' excitement, as he'll be playing the electric cello for the song, "Livin' on a Prayer."
"It's been fun to change it up and to rock out," Flynn said.
This is the first time Flynn has ever played an electric cello. Unlike other acoustic cellos, the electric cello used for this concert will have frets, and the sound will come from a different area. 
"It's definitely an adjustment from what I usually play,"  Flynn said. "It has a totally different sound."
One of the most difficult challenges while playing with rock pieces is the rhythm that the orchestra has to follow. Syncopated melodies, fast paced tunes and various harmonies/counter melodies are what makes the rhythm difficult.
"I think rhythm is the most important thing." Rosin said. "If you know how to play a beautiful melody, but it doesn't have any rhythm you're not gonna make good music." 
Nevertheless, the orchestra's months of practice seeks to overcome these challenges.The concert is open to anyone, and admission is free. The concert also features a raffle, where for five dollars, you can buy a chance to win an $800 electric violin. 
"When you hear a recording of an electric instrument, it's a little weak," Rosin said. "But when you hear it in person and it shakes the stage… it's powerful."
Leave a Comment
About the Contributor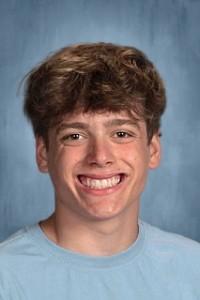 Donald Keough, Visual Editor
Donald Keough is a member of the Class of 2023 and the visuals editor for Portrait. This is his first year on staff as a junior. Donald's favorite thing...