You can't stop the seniors
"I can't wait until it's my turn."
That's all that trumpet player Andrew Schreiber (12) could think at marching band senior night his freshman year, three years ago. As marching seasons passed, he would watch the tradition of the senior class being celebrated at the last home football game of the season. Each year, seniors would get to choose any song of their liking to perform at halftime, usually being a song from their freshman or sophomore year. They also got to wear a unique hat of their choice while doing so. 
Schreiber, along with his fellow marching band members in his class, couldn't wait to finally do the same. 
This year, however, the tradition was disrupted when band director David Larzelere announced a change to senior night. Instead of choosing any song, seniors were given two choices: play their current half time song again, or play You Can't Stop The Beat, the song from the marching band's 2016 show and a pep tune used in 2019. This came as a disappointment to many seniors, who were looking forward to playing Space Race, the song from their freshman year. 
"There's just a lot that goes into [Space Race]," Larzelere said. "It's a complicated production to put together, and we didn't have enough time to prepare."
You Can't Stop The Beat won the vote, and was performed at senior night on Oct. 21.
"Mr. L told us that we couldn't play Space Race because it would be too hard for the underclassmen to learn," Schreiber said. "It definitely sparked controversy, and me? I was upset. I was so excited to have my special moment."
Zane Slanger-Grant (12), sees where Schreiber is coming from, yet as a drumline member, he acknowledges that the drum parts for Space Race were difficult to learn.
"I think it would be unrealistic to ask the freshman to learn Space Race," Slanger-Grant said. "The drum line parts are getting harder. Like, we didn't even get our part for this year's show down until the last game."
In 2018, the marching band began competing in regional competitions. With the switch to competing, members have noticed that the songs they perform have increased in difficulty. The band began buying full shows directly from a composer, instead of buying individual pieces. Along with the new pieces, a percussion instructor had to be hired to help teach them.
"I do think that this will be a permanent change to senior night traditions," Slanger-Grant said. "I just hope we're not playing You Can't Stop The Beat for the next seven years."
Leave a Comment
About the Contributor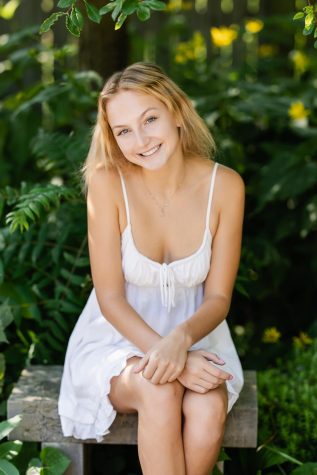 Frankie Calabrese Barton, Social Media Editor
Frankie is a member of the Class of 2023, and is the Social Media Editor and a staff writer for Portrait. This is Frankie's second year on staff as a...