Relatively Normal
Students talk about their experience with having a parent at ELHS
Rooms 257, 426, 430 and 500 are spaces where students and their friends find a safe haven with the comfort of their parents. Everyone has bad days, but for Ginger Johnston (11) it becomes a little easier with her mom in the building. Math teacher Maggie Moore is always available and welcoming to her daughter when she is having problems, school related or not. 
"It's kind of fun, you know, because like if I'm having a bad day, you know, she's there when I need a hug," Johnston said.
Having a presence in a building full of teenagers, as Moore does, leads to a deeper understanding of them. Johnston expressed this as an advantage since it helps her situation at home. 
"I think that she's pretty relaxed and accepting and like teenagers will be teenagers," Johnston said. "And so for me, I just think that adds because we're very close, and she also I think has a good understanding of teenagers which helps at home and here."
Similarly, Luke Foster (12) see's many advantages in having his dad, math teacher Mark Foster, in the building every day. Benefits like getting to school early, having math help at home and having someone to talk to during the day. Foster had his dad for geometry during his freshman year. 
"It's funny because like, if you don't know something, it's not because the teacher didn't teach it, it's because you weren't paying attention," Foster said.
Johnston also had her mom as a teacher in Algebra II during her sophomore year.
"It was kind of weird, but it was like different versions of her," Johnston said. "It's like oh yes [she's] my mom but it's like a very different side of my mom." 
Other students including Antonio Rojas (11) and Elliot Myers (10) have parents that teach at ELHS. Science teacher Suzanne Rojas, Antonio's mom, teaches science classes including physics. Rojas had his mom as a teacher his sophomore year in AP Physics 1 which he enjoyed, but like his peers with parents as teachers, Rojas found it somewhat weird.
"It might kind of just be the fact that  it's weird having your parents supervising the other people that are your friends and stuff like that," Rojas said. "Especially when they're in the class as well." 
Rojas grew up with a parent working at the high school, meaning he had more opportunities to meet the other staff that work at ELHS and get to know them before actually going into high school.
"I don't know them as well, but they know me [which] is especially kind of weird when the teacher knows you more than you know them," Rojas said. "It's like, 'oh, I remember when you were in fourth grade,' and you're like 'oh, I don't remember that.'"
In a different situation with his stepdad in the building, science teacher Doaglas Damery, Myers faces similar experiences. Unlike the other students, Myers hasn't ever had Damery as a teacher throughout high school. 
"I try to avoid having his classes just because I don't want special treatment, either way, easier or harder," Myers said. 
Generally, he doesn't see his stepdad around school very often, as Damery is in the science wing which is somewhat tucked away.
"I think it would be awkward if someone in his class was talking in the hallway," Myers said. "like 'oh Mr. Damery sucks.'" 
Despite the challenges, there are many possibilities of growth with a parent figure only doors away during the school day. Many students have no other choice but to go home when facing hard issues, but students with parents as teachers have the option to go to their mom/dad for help first. For Johnston, this is something she would miss out on without her mom in the building everyday. She believes the advantages outweigh the disadvantages. 
"[My high school experience is] definitely different because I'm just not as on my own as I would be If she wasn't here, but overall I do like having her in the school," Johnston said.
Leave a Comment
About the Contributor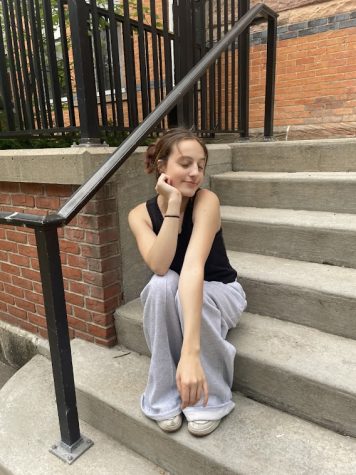 Mia Hagerstrom, Staff Writer
Mia is a member of the Class of 23' and one of the staff writers for Portrait. This is her first year on staff as a Senior. Mia's favorite thing about...