Seniors audition for performing arts colleges, await results
From the outside looking in, Johnny Danziger's (12) whole life is band. Danziger might just be the most involved band student at ELHS. He is enrolled in all of the three band classes that are offered at the high school, as well as marching band and other after school bands. His love for music has led him through his high school career, and multiple other students have discovered their love for performing arts at East Lansing. 
Danziger, Nick Langford (12) and Emily Walters (12) plan to continue with performing arts into college. They have all auditioned at multiple colleges for a variety of arts including music, dance and theater.
Danziger decided that Michigan State University and the University of Michigan were his top choices to complete his degree in music education so he can one day become a band director. He felt that they were some of the top music schools in the country, which worked well for him since he wants to stay close to home. Danziger completed auditions for both schools, his MSU audition was on Feb. 10, and his U of M audition was on Feb. 16. He is still waiting to hear back from both schools on admissions to their music programs. 
"[Both of the auditions] were pretty stressful because they're high stakes," Danziger said. "MSU and Michigan have really competitive music schools, and they're both [very] different."
Similarly, Langford decided to audition for the music school at U of M. He explained the audition process, which was completed over zoom, to include the submission of multiple original and covered songs which he performed on different instruments. There was also an interview with the professor where he was asked about his musical background and inspiration for music. 
"I have always wanted to do something with music in my life and the program at U of M was a really promising program and I really liked what they had to offer," Langford said. 
Walters has been doing performing arts since she was very young. She has done competitive dance since she was three years old, and has always enjoyed singing and theater. She decided to audition for many universities including, but not limited to, New York University, University of Michigan, Ithaca College, Carnegie Mellon, Point Park University, Pennsylvania State University and Temple University. She completed these auditions throughout January and February, and awaits the results to come in April. 
Throughout high school, she has been a part of a lot of the high school productions, such as "Little Women," "Cinderella," "Chicago" and more. 
"Playing Cinderella last year solidified my love for performance and made me realize that was what I wanted to go to college for and do for my job," Walters said. 
Danziger and Langford have both played in the band throughout high school. Danziger's main instrument is the bass trombone, but he plays a variety of different instruments. Langford plays percussion in concert oriented bands as well as marching band. Growing up in musical families contributed heavily to Langford's career as a musician. 
"I've always been into music ever since I was little. I've been taking piano lessons since I was five, and I grew up in a very musical household," Langford said. 
Danziger, Langford, and Walters have a variety of different plans, some of which are more uncertain. Danziger is planning on becoming a musical education teacher after college, so he is specifically planning to take education classes along with the music program. Walters wants to move to New York following college and pursue her dream to be a Broadway performer. Langford dreams of being in the music industry, whether as an artist, producer or agent. 
"Plan A  [after college] is to go be a famous rock star, but if plan A doesn't work out then maybe some sort of music teacher or just someone in the music industry like an agent or producer," Langford said. 
Leave a Comment
About the Contributor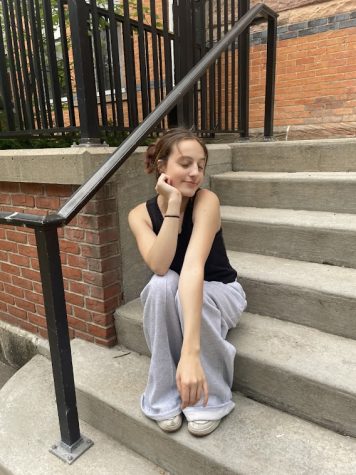 Mia Hagerstrom, Staff Writer
Mia is a member of the Class of 23' and one of the staff writers for Portrait. This is her first year on staff as a Senior. Mia's favorite thing about...