Sarah Tarpoff Creative Writing Awards returns for the first time since pre-COVID
For the first time since before a pause due to COVID-19, the annual Sarah Tarpoff Creative Writing Awards contest is making its way back into the district. The friendly contest allows students from all across the district to submit their original works, whether that be an essay, poem or short story, for feedback given by honors English students at the high school.
Anna Sarinopoulos (11) remembers the Sarah Tarpoff contest as a large part of her school experience growing up but had completely forgotten about it since middle school. She recalls the contest as an exciting part of her elementary school years and as an opportunity many jumped at.
"It felt a bit more serious and cool as the feedback was coming from someone other than your teacher," Sarinopoulos said.
The contest may have been exciting as an elementary schooler because of the competitive factor, but Sarinopoulos realizes the value the feedback can have for growing writers.
"It's always good to get feedback," Sarinopoulos says. "It may be even more important than winning first place."
Sarinopoulos will be participating in the contest this year hoping to write a piece about her experience in high school as a whole. She sees the contest as a good opportunity more people should take advantage of.
"My approach to the contest is like 'hey why not', if there's any writing contest or evaluation, I'm like 'hey why not'," Sarinopoulos said. "There's nothing really to lose and if there's an opportunity I might as well take it."
English teacher Emily Holmes likes to encourage many of her students to participate in the contest and uses a curriculum that gives the students many opportunities to submit their classwork as well.
"I don't assign something for them to do for Sarah Tarpoff but they write a lot of poetry in my class so I encourage them to submit some of those," Holmes said.
She says that she doesn't like to use the contest as an assignment as other teachers may because it takes away from the special feel the contest has.
"They come up with some amazing stuff and I want them to realize that it's great enough to be in this contest," Holmes said. "I feel like [requiring them to participate] waters down how special they feel submitting something."
Overall, the contest serves as an opportunity for students to express their creativity and improve their writing.
"I think it's a neat thing we do," Holmes said. "I only wish the contest part of it was a bit more formalized."
Students can enter the contest through their English teacher up until April 27. After entries are submitted, they will be judged by some students in English teacher Tim Akers' AP Lang classes.
Leave a Comment
About the Writer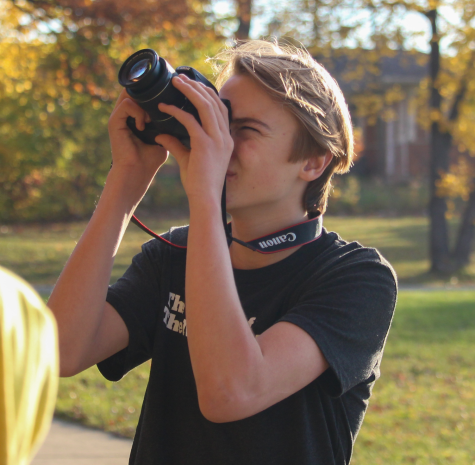 Quinn Martin, Photo Editor
Quinn Martin is a member of the Class of 2024 and is the Photo Editor of Portrait. He has been on staff since his sophomore year during the 2021-22 school...