Making The Difference
How paraprofessional Mike Voldeck makes his mark on East Lansing High School
Mr. Voldeck. Mr. V. Mike. Coach. Coach Mike.
Michael "Mike" Voldeck has always stood out. He attributes it to his outgoing personality. "There's many times I don't mean to stand out," Voldeck said. "It just sort of happens. I would rather have students come to me with whatever they need, instead of hanging in the background."
Voldeck is a paraprofessional, a classroom aide, who provides support to special education students, making sure they always have another person to turn to. His career path began by following the example of his mother, who also worked in public schools with special education students.
"I've always had an affinity to not only follow in her footsteps, but also I just love the thought of working with students that may need a little extra help, because I did when I was in school." Voldeck said.
He worked in West Bloomfield 11 years ago for a year before hitting his stride in EL. His first year was more of a "feeling-out" process, but by his second year, the job clicked. 
"I figured I'd always have something to do, a purpose to serve, and I wanted to dedicate as much time as possible to this," Voldeck said. 
What kept him staying then, still keeps him going now. Mike Voldeck wants to make the difference. He teared up recalling the first time he really felt he did—his third year at the district, when a student asked him to hand them their diploma. For him, this was a turning point in his career, and the first time he felt a sense of self-satisfaction with his job.
"The fact that this was such a big moment in their life, and they chose me out of all people to honor them with that," Voldeck said. "Accolades are nice, and we always like to think we're making a difference, but when I was able to hand that diploma out, it really hit home that I made a difference for the first time."
On the day to day, Voldeck just loves being in the school, learning kids' interests and seeing all the different personalities. While he's only required to help students in special education with daily school tasks, his favorite part of the job is learning from the students around him.
"It keeps me coming back. With so many kids in school, I can meet a new student every day, you know? I hate to sound like an old guy, but I learn about new music and, you know, BeReal. I would never know about that stuff if I didn't work in a high school."
But with any job, there are hard days. Voldeck finds the worst when he just can't get through to a kid. Since he works with so few, it weighs on him when he feels like he's failed. 
"I question myself on that. What am I doing wrong? What am I doing wrong?" Voldeck said. "Of course, there's always those times when you're like 'I can't do this anymore,' but the kids, and the difference making, and the hours– you can't beat it."
He doesn't see himself in this job for the rest of his life, but he assures he's not leaving anytime soon. The kids, the connections, the differences he can make and feel will stay with him.
"You know, I don't get paid a lot, but I don't see a lot of other jobs that give me the satisfaction that this does." Voldeck said. "I wouldn't change it for the world."
Leave a Comment
About the Writer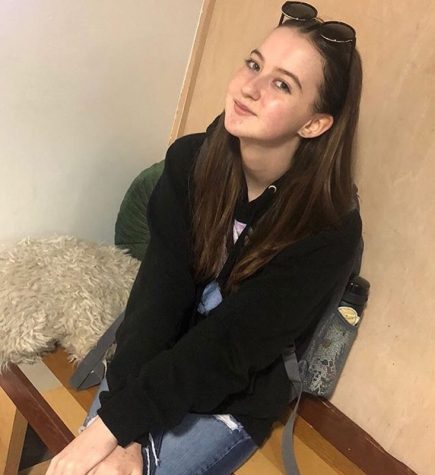 Allison Treanor, Print Editor
Allison Treanor is a member of the Class of 2023 and one of the staff writers for Portrait. This is her first year on staff as a sophomore. Allison's...