Hungry for a win
ELHS softball team shares their goals and hopes for the upcoming season
Kate Borgstrom (12) knows the varsity softball team isn't known for winning. In fact, to put it not so nicely, as they say, they're kind of a losing team. In 34 games last year, they scraped together six wins. 
But they're okay with that. They know this year will be better. They can feel it. They're ready to put themselves out there.
Borgstrom will play their fourth year on the softball team this spring, which is coached by Spanish teacher Jeffery Lampi. Lampi is very excited for this softball season because the players are motivated to work hard and win games.
"They are hungrier, hungrier for winning," Lampi said when asked about the team's goals for the upcoming season.
Last season, while the team lost most of their games, they were focused on getting the team back on its feet and building chemistry. This year, the team feels they are ready to win more games and be more competitive.
"And so this year, our seniors have come back and they really want to win," Lampi said. "They want to be more competitive, so we're working on setting goals, measurable goals. You know, what it's going to take to win."
He believes having fun is the most important part of playing softball and one thing that many of the other teams in the area lack. According to Lampi, the close knit nature of the team is one of their biggest strengths and what makes the team so remarkable.
"When you have teams that are really good, but they don't have good chemistry, you can win a lot but you won't have fun. This team has fun because we care about each other," Lampi said. "There's not a lot of separation, no matter what the grade is [of each player], they are all pretty close knit and united."
Borgstrom, who has been on the team since their freshman year and acts as a role model for the team, believes that the closeness of the team is what makes it special–  they even say that it is almost like a small family.
"I think that we have very good team chemistry," Borgstrom said. "We're a very tight knit group, we all become very close and it is a lot of fun."
Freshman player Talia Dunn (9) has played softball for seven years since she started in third grade. She has previously played travel softball and is looking forward to further bond with the team, as well as aim for a winning season.
"I'm looking forward to us having a good season this year, a winning season, and the team bonding," Dunn said.  "Just getting to know each other as players and so we can come together and succeed."
Dunn has her own goals for the season in addition to the goals she has for the team. These include building her self confidence to become both a better player and a better person.
" I want to be better about not putting myself down when it comes to making mistakes," Dunn said. "I want to be able to build myself up and learn from those mistakes so I can be a better player."
One of the things Lampi finds special about this team is its ability to work hard and set goals, while most importantly having fun.
"The number one thing I enjoy about it is the everyday hanging out with the kids, having fun in practice, working hard and building those relationships," Lampi said. "That's what kids remember more than wins and losses. It's [the] fun time together."
Leave a Comment
About the Contributor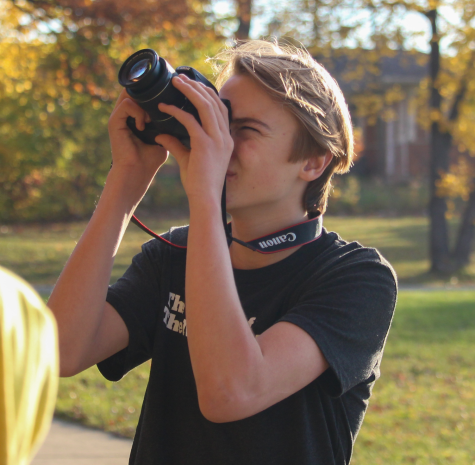 Quinn Martin, Photo Editor
Quinn Martin is a member of the Class of 2024 and is the Photo Editor of Portrait. He has been on staff since his sophomore year during the 2021-22 school...