Adapting to change
Whitehills Elementary school teachers express their opinions about no longer being able to celebrate holidays
When ELPS announced last year that you can no longer celebrate holidays in school, Danielle Smalley, a fourth grade teacher at Whitehills Elementary, found herself with mixed emotions. She always had traditions for celebrating holidays in school, and they were some of her favorite memories of being a teacher.
Last year was the hardest for her students. After coming back from doing school online and having one of their only sources of normalcy being taken away from them, many of Smalley's students did not like the change.
"A lot of them struggled with it. Big time," Smalley said. "A lot of kids were super passionate about wanting to do those things that now there's just this abrupt change. And so what it turned into is we had to have class conversations about it, where everyone had an opportunity to express how they were feeling about it. 
However, she realized she needed to take a step back and truly see why this change was made. The holidays traditionally celebrated in school were ones she got to be a part of, in school, and outside of school. Especially Halloween, Christmas and Valentine's day. Realizing this wasn't the case for everyone was where her understanding and overall acceptance came in. 
"It's not just about me," Smalley said. "There are a lot of other people who celebrate different holidays, and we don't always focus in on those. The decision definitely makes sense in terms of just being inclusive of everybody's beliefs."
Seeing how this year and last year played out, Smalley utilized the opportunity to open her students' eyes to holidays they may not know about, and even appreciate the ones they already celebrate more. 
"I do understand that everyone misses things that are traditional," Smalley said. "When things that you're used to doing stop, it feels weird. Not everyone loves change."
Another fourth grade teacher at Whitehills, Aimee Holbrook, felt it was the right thing to do after two of her students came to her and expressed their relief. Holbrook didn't miss the holiday celebrations. 
"The longer I teach in our community, the more I learn about different cultures, and different beliefs and values, the more I came to understand that it was exclusive," Holbrook said.
Some students don't participate in these celebrations and some don't have the money to bring in treats for the classroom celebrations. 
Although holidays have been removed, teachers still try their best to keep spirits high during holidays and find other things to celebrate. 
"We celebrate the end of a group novel with some sort of sweet party or celebration about being done with and then we tie it to the novel so that everybody can be a part of it," Holbrook said. With these types of celebrations, every child can be a part of the fun without feeling ashamed or stressed.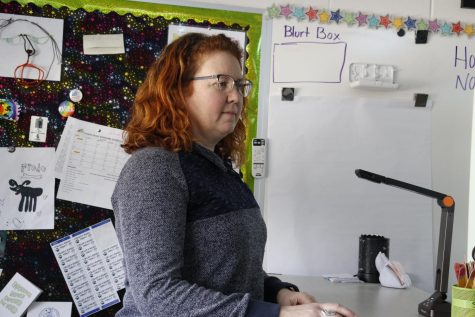 Along with book celebrations, many students still celebrate these holidays and have found other ways to express it in their school environment.
"People will come in with holiday themed t-shirts, but I view that as more of a freedom of expression and as long as it's not any form of hate speech it's okay," Holbrook said.
"Sometimes the kids will ask questions to each other like, 'hey, do you celebrate?' And then we'll talk about it."
Making sure there are no students that are excluded by celebrating a holiday is something Smalley and Holbrook see as a priority. With these rules set in place, she's now begun to teach about the holidays and how they've become what they are today, rather than throwing a party that some students can't be a part of. 
While some students reminisce about the days when they would have their holiday parties, Holbrook prefers the new, more inclusive celebrations. 
"I don't personally miss it. Like I said, we find other ways to celebrate and to have those fun moments," Holbrook said. "One way or another, the teachers always make sure to have things to look forward to, to keep everyone happy and motivated throughout the school year."
Leave a Comment