Top 10 albums of 2020

2020 has been a chaotic year for everyone. But still, artists have found ways to express themselves and create one of the best years for music in a while. Here are my picks for the top 10 albums of 2020.

10- Punisher by Phoebe Bridgers
Genre: Alternative, indie                                             
Punisher is a nihilistic, brooding album, constructed of dark sunsets and cigarette smoke. Bridger's emotional and intimate delivery of her stunning, poetic lyrics makes this album feel like she's sitting on the curb with you, ranting about life and giving pessimistic advice. I've found this album a favorite to study to, with its soft tone and organic instrumentals, but when you pay attention, her deeply personal lyrics are enough to give anyone whiplash. My favorite lyrical piece is Chinese Satellite, about looking for a reason in it all, with the lyric "I would stand on the corner / embarrassed with a picket sign / if it meant I would see you / when I die".
It's quite slow, and long, and every song sounds the same to quite an extent, with Bridger's gorgeous lyrics desperately carrying the lackluster instrumentation, but if you give this album time, and care, it will slowly reveal its stories, and show you Bridger's carefully crafted moonlit cityscape.
Top 3-
Chinese Satellite

Kyoto

ICU

9- Ungodly Hour by Chloe x Halle
Genre: R&B
Chloe x Halle proved to be the biggest breakout act of this year with their golden sophomore album Ungodly Hour. Chloe's buttery, mature voice and Halle's bright, high voice go wonderfully together, and their vocal delivery is my favorite part of the album, second to the lush production that makes the album impossible to not dance to. Although they stick to a similar sound for most songs, they give themselves space with genre benders like the smoky and retro I Wonder What She Thinks of Me, and the playful Tipsy that explores the girls' still growing lyricism. It's a solid and fun album, with some questionable decisions, but overall enjoyable.
Top 3- 
I Wonder What She Thinks of Me

Busy Boy

Tipsy

8- Future Nostalgia by Dua Lipa
Genre: Pop
After her mainstream breakout hits in 2017, Dua Lipa needed her second album to reinforce a sound for herself and cement her place in popular music. That she did, with the aptly named Future Nostalgia. She pulls from the classic neon disco of the past, and adds her own refreshing and modern spin on it. Her voice is strong, her lyrics are fun, and although the album doesn't take any risks it's enjoyable and solid.
Top 3-
Cool

Physical

Boys Will Be Boys

7- Miss Anthropocene by Grimes
Genre: Alternative, electronic
Most of you probably know Grimes from being Elon Musk's partner and naming their child X æ A-12, and I'm here to inform you that her music is just as insane as you'd expect. Miss Anthropocene is a concept album revolving around the goddess of climate change, and other apocalyptic beings, like the demon of addiction in Delete Forever, or the god of death in Before the Fever. Although the album's concept is solid and intriguing, and like all she does, something only Grimes could come up with, not even the New Gods could save this album from delays, pushbacks, and an overall apocalyptic rollout. As a result, the album sounds more like ideas, with only a few songs feeling full and finished. When they're good they're incredible, but the rest lean on the messy side. It's not an album for the faint of heart, but if you're looking for an album as insane as naming your child "Like a password" as his father described it, Miss Anthropocene is an experience unlike any other.
Top 3-
Before The Fever

IDORU

Delete Forever

6- The Archer by Alexandra Savior
Genre: Indie
The Archer is Savior's second full-length album, and a shining sign of maturity. It's a calming, beautiful album that takes its time, for better or for worse. Savior's soft and flexible voice glides perfectly over the organic instrumentation, and her poetic lyrics bring the album to life. From the piano ballad opener Soft Currents, to the sinister and lurking Bad Disease, the album shows a nice amount of range. Although it is quite short and can be painfully slow at times, if you're in the right mood to enjoy The Archer, it is a beautiful and entrancing album.
Top 3- 
The Archer

Can't Help Myself

Bad Disease

5- After Hours by The Weeknd
Genre: R&B, pop
After Hours is the fluorescent fourth album from R&B star The Weeknd, and it solidifies his place as a household name here to stay. The album can stand without being carried by hit singles such as the electric and addictive Blinding Lights, and the beautiful throwback In Your Eyes, with some of my favorite tracks being the brooding and smoky Escape from LA, and the transcendent opener Alone Again. Although its a normal 14 track album, it occasionally drags its feet, and certainly a song or two could've been cut, or rearranged. All said and done, it's a solid, quality album that most everyone is sure to enjoy.
Top 3- 
Blinding Lights

In Your Eyes

Escape From LA

4- How I'm Feeling Now by Charli XCX
Genre: Experimental pop
Ever since she went out on a limb with her "Vroom Vroom" EP, Charli XCX has been a pioneer in the field of pop music. Made completely in quarantine, How I'm Feeling Now keeps this unique and futuristic sound she's known for, while putting more of the focus on her lyrics about how we've all felt in quarantine. From the self-reflection and destruction in "Detonate" and "Enemy", to that feeling of just wanting to yell in "Pink Diamond", the flashy opener, and "Anthems" a song that details every bored and tired feeling that isolation brings. This album is certainly a great time capsule, detailing all the ups and downs Covid has brought to everyday life in Charli's neon hyperpop package.
Top 3
Detonate

Anthems

Claws

3- I Disagree by Poppy
Genre: Metal, dream pop
I Disagree by former internet legend Poppy is a twisted roller coaster that will send you from dreamy pink lo-fi skies to the worst haunted houses you could imagine in a second. There are genuine jump scares on this album. The second you get lulled into Poppy's sweet, light voice, the album descends into an inferno of screaming guitars and overwhelming percussion. Take "Bite Your Teeth", which sounds like three completely different songs in one, but works. That's what makes this album so amazing, it works. Poppy takes two genres that couldn't get more different, puts them in the same song, even though I would be impressed enough if it was just the album, and makes it sound amazing. From the now Grammy nominated pure screamo "BLOODMONEY" to the gentle and dreamy "Sick of the Sun" Poppy pulls it off, and does it well.
Top 3
Anything Like Me

I Disagree

Sick of the Sun

2- Folklore, by Taylor Swift
Genre: Indie, alternative
If you haven't heard about Folklore from the sheer surprise of the biggest pop artist of her generation surprise releasing an indie album, or heard about all the records it broke despite the surprise release and the 6 Grammy nominations it's racked up, then you're sure seeing it in the top 3 of every "Top albums of 2020 list".If you haven't listened to Folklore yet, you're missing out. Now more than ever, does Swift prove she is, and always has been, one of the greatest songwriters alive. Jack Antonoff's stunning production backs this up, as does Swift's emotional and intimate vocals, all wrapping together to create a modern masterpiece. From the pure serotonin rush country throwback Betty, to the cripplingly sad My Tears Ricochet, to the dreamy and nostalgic Seven, Folklore shows off many fascinating sides of Swift's mind. I would say the album begins to drag its feet after "Illicit Affairs", and definitely could've used a few tracks cut, but that does little to hinder the strength of the overall album. Folklore is a career defining moment, and a sure sign that Swift is here to stay.
Top 3
August

Cardigan

Mirrorball

1- Sawayama, by Rina Sawayama
Genre: Pop, rock
Topping my list (and beating out my second favorite artist of all time) is the debut album from up and coming innovator in pop, Rina Sawayama. The defining characteristic that makes this album so strong is Sawayama's effortless versatility, shown by the opening track, Dynasty, a rock infused power ballad about battling legacy. She sings "I'm gonna take the throne this time", and this album proves she already has it. Sawayama breathes new, invigorating life into pop music, and the album is perfectly refreshing and enjoyable for it. From the pure bangers of XS, Who's Gonna Save U Now? and STFU! To the heart wrenching ballads of Bad Friend and Chosen Family, to the perfect pop anthems of Paradisin' and Tokyo Love Hotel, this album leaves the listener with two thoughts: "What can't she do?" and "I can't wait to hear that again".
Top 3
F*** This World (Interlude)

Akasaka Sad

XS
Leave a Comment
About the Contributor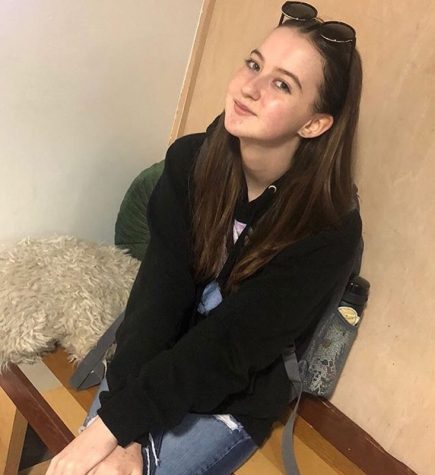 Allison Treanor, Print Editor
Allison Treanor is a member of the Class of 2023 and one of the staff writers for Portrait. This is her first year on staff as a sophomore. Allison's...