Remembering Sophie
After a tragic accident, the pop innovator will live on
You probably have never heard of Sophie. And that's understandable. She never strove for the mainstream, and remained content with her status underground. But behind the scenes, she changed music forever and for the better. And you have certainly, if unknowingly, heard a song produced or influenced by her. 
Tragically, on Jan 30, a statement released by her label, Transgressive, confirmed that she had died at the age of 34, after "She had climbed up to watch the full moon, and tragically slipped and fell." 
The loss was felt immediately by her collaborators and friends, who shared their condolences on social media, such as FKA Twigs and Grimes who respectively called her "a star of our generation", and vowed she would be "immortal through art."
"We see her influence in every corner of music. Listen to all her brilliant work," fellow producer Jack Antonoff said in a twitter post when the news broke.  "You'll hear an artist who arrived before everyone else. It is rare we get to live at the same time as an artist so singular… she is a savior of pop." 
Who was Sophie?
The Scottish born producer began releasing solo songs and producing for other artists around 2013, and continued through 2015, where she made the biggest mark of her career so far when she produced Charli XCX's "Vroom Vroom" EP. 
"Working with Sophie was a key moment for me as a musician, because I finally found someone who could articulate my ideas sonically," Charli said about her in an interview. "When I met Sophie, it was like 'Wow, you get it, and you get me, and you also make me feel something.' There are very few artists who make me feel something to my core, and make me want to cry." 
The two worked together on Charli's next (currently unreleased) album and two consecutive mixtapes, with the Sophie produced tracks such as "Out Of My Head" and "Lipgloss" all being fan favorites.
She is also well known for being closely associated with the PC Music label, which has been pushing the boundaries of pop and music all together, almost creating its own genre, which Sophie helped influence immensely. 
In 2017, Sophie released the music video for "It's Okay to Cry", using her image in her work for the first time, and amidst much speculation, came out as a transgender woman in the interviews following. She was a figurehead for trans rights for her entire career, and her music meant incredible amounts to the LGBT people who felt seen by what she stood for.  
In the same year, Sophie released her only solo album, "Oil of Every Pearl's Un-Insides", which made her the third transgender woman in history to be nominated for a Grammy award when it was nominated for "Best dance/electronic album". The album received international acclaim and is a staple in avant-garde pop. 
She continued working as a producer, working with artists like Madonna, Vince Staples, K-pop group ITZY, Cashmere Cat, Kim Petras, along with many others, becoming one of the most renowned and sought-after producers of her time.  
Her sound is completely unique and iconic. You know when you are listening to a Sophie song. There's a different kind of energy and life to it. Her music is completely synthetic and made from scratch by her.
"You have the possibility with electronic music to generate any texture, and any sound, so why would any musician want to limit themselves?" Sophie said in an interview with Tracks. "You want to work with the most powerful tools you can work with. In the past that may have been a guitar or a piano, but now it's electronic synthesizers." 
The music that comes from these synthesizers is hard to describe in words. It's giant, metallic, brutal, and occasionally lighthearted and shiny. Her songs are incredibly memorable and eye catching, nothing like anyone has ever done, or will ever do again. 
"I think all pop music should be about who can make the loudest, brightest thing," Sophie told Rolling Stone in a 2015 interview. "That, to me, is an interesting challenge, musically and artistically. The challenge I'm interested in being part of is who can use current technology, current images and people, to make the brightest, most intense, engaging thing." 
The importance of Sophie cannot be understated. On a career level, she permanently changed the definition of what music could be. On a personal level, an international audience found true representation in her art, especially as a trans woman. She opened countless doors and broke down countless barriers. 
Sophie was an artist ahead of her time, and a once in a lifetime musician that was daring enough to propel music as an art forward into places it has never been before. In Sophie, the world had an incredible person and incredible artist that did so much in a life cut so tragically short. 
"If I had just one single wish, wish I could have said this: it's okay to cry." – Sophie, "It's Okay to Cry" 
Leave a Comment
About the Contributor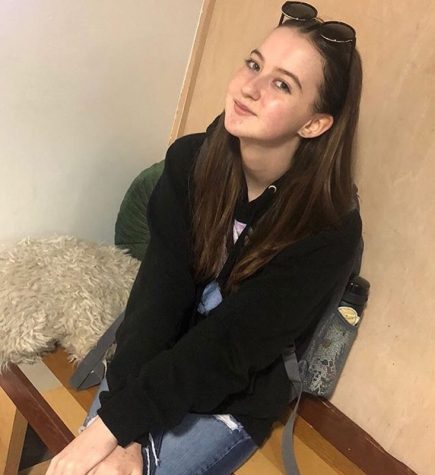 Allison Treanor, Print Editor
Allison Treanor is a member of the Class of 2023 and one of the staff writers for Portrait. This is her first year on staff as a sophomore. Allison's...