Faces in High Places
Student Reflects on Kamala Harris Inauguration and its Long Term Impact
My name is Anaiis Rios-Kasoga, I'm an 18-year-old multiracial girl born and raised in Michigan; and as a result, I never had many role models in American politics. 
When I was six, I sat in awe in front of my television as Sonia Sotomayor was sworn into the supreme court. Though I didn't have a grasp on politics and was not of voting age I saw a Latina woman being sworn in as a Supreme Court justice and that meant something.
'I could do something like that,' I realized. 
A Latina could be a Supreme Court Justice, and I would never know a world without one.
I had that image forever. 
Jan. 20, 2021, Kamala Harris was inaugurated as vice president, and I, freshly eighteen, sat in front of my laptop as she was sworn in. America's first female vice president simultaneously being America's first woman of color vice president. Watching felt different this time, I knew the politics that had gotten her elected. 
Everything was more nuanced and complicated. She wasn't just a Black and South Asian woman but a complex intersectional political figure. 
Girls of color, particularly Black girls, who are interested in politics don't have a vast sea of faces to look to in terms of representation. Especially girls from places like Michigan that are not known for their diversity. It is difficult to find someone to look up to and say 'wow I can be that' or 'I can do that.' 
Representation is proven to be beneficial to children in relation to long-term success. The American Psychology Association has cited Albert Bandura's social learning theory as reasoning for why representation is so important for children to consume through media. The theory shows how children learn about themselves and society through modeling their behaviors after what they observe.  
When children don't see themselves in positions of power they conclude that those positions are not attainable for people who look like them. That they are not worthy of those positions. It is incredibly difficult to be what you never see to dream something for yourself when you have never consumed it. 
A study from Johns Hopkins tells us that a Black student who has at least one Black teacher is 13 percent more likely to go to college. If that same Black student has two Black teachers the percentage rises to 32, more than doubling. 
This principle can be applied to representation in general. A young girl of color who sees a woman who looks like her, sounds like her, in a position of power is more likely to pursue a powerful position for herself, or at least able to see herself in a position of that nature. 
Representation is crucial but faces in high places cannot be where that representation ends. 
Not all skin folk are kinfolk, identities are not mono-faceted they are vast and intersectional and grow as we do, so representation must work the same way. Though we must continue to hold politicians accountable and not idealize or romanticize them, it would be a disservice to younger girls of color to not acknowledge the enormous benefits of seeing the possibility to dream that big. 
I think that dreaming big can be a revolutionary thing for girls of color because people tell you to operate how your parents did, and that's fine for some, but that isn't applied to others. White children are told they can "do anything" and they are shown that as well. In their textbooks, in movies, and everywhere else. 
I would never have applied to Yale if I wasn't surrounded by family who encouraged me that I had a place there. That institutions like that were not exclusively for upper-class White kids.
I didn't ever see women who looked like me or sounded like me representing spaces like Yale, applying in and of itself was a push against a system that said I didn't belong.

I'll be attending Yale next year, and I hope that eventually, I can be someone who other girls can look up to and know that Yale is a path that they can take and that they can succeed at.
I could have used Kamala Harris a lot more when I was a little girl than now as an eighteen-year-old. But that doesn't stop me from recognizing what she will do for other little girls and the way they dream about their futures and see themselves. 
I am at a point where I am just as conscious of policy as I am of representation. I see the importance of both. 
Though I didn't feel the same way on Jan. 20 as I did when I watched Sonia over a decade ago, I knew that there were other six-year-olds who were watching Kamala Harris and did feel that sense of awe wash over them. That when they watched the inauguration on their television they saw themselves reflected. That image would stick in their brains and they would grow up in a world where women of color had always been Vice Presidents. 
Johns Hopkins study: https://releases.jhu.edu/2018/11/12/black-students-who-have-one-black-teacher-more-likely-to-go-to-college/ 
Leave a Comment
About the Contributor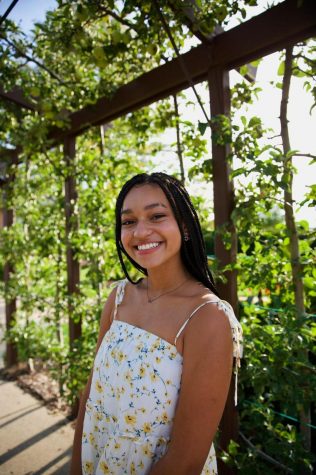 Anaiis Rios-Kasoga, Multimedia Editor
Anaiis is a member of the Class of 2021 and one of the Multimedia Editors for Portrait. This is her first year on staff as a senior. Anaiis' favorite...