Back With the Black History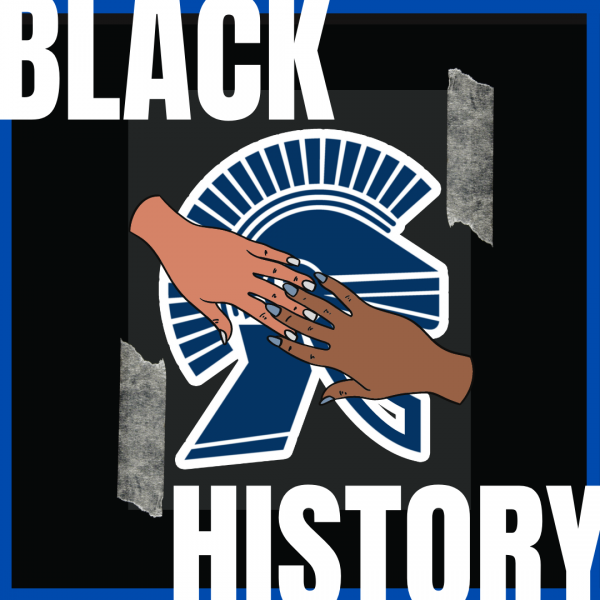 For Elizabeth Ngassa (12), Black History Month is a time for Black voices and stories to be highlighted and celebrated, as well as a time to facilitate learning for those both in and outside of Black communities. However, she believes that in many public schools, not enough is done to properly teach about Black History.
"Black History is barely spoken about in schools by non black individuals," Ngassa said. "Even when it is spoken about it's always about slavery or the Jim Crow era. There are so many positive sides to Black History. Of course, those things need to be taught but what also needs to be taught is the creativity of blackness and the joy of blackness and the love of blackness in our community."
And Ngassa is not the only who feels as if more could be done to educate students about Black History, especially its positive aspects. In a recent student poll posted on Portrait's Instagram page, when asked if they believed ELHS does enough to celebrate Black History Month, 29% of students responded "yes". However, a solid majority of 71% responded "no".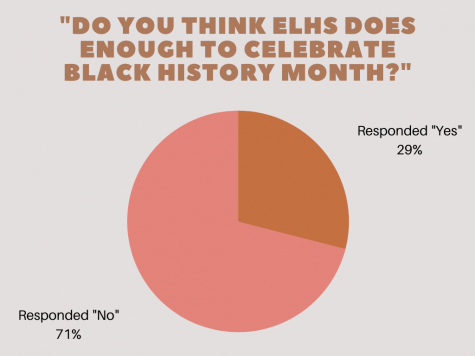 A student who responded to this poll, Megan Skidmore (11), had not known about Black History Month until this year. She found out about the celebration through social media, namely from posts on the Instagram account @Impact. From there, she began researching more about Black history.
"I think it's important to celebrate Black History Month because a lot of the Black history that we learn about throughout the year, no matter how important it was, often centers around how it affected white people more than how it affected the Black people," Skidmore said. "It's told through the eyes of white people so I'd consider Black History Month an expressed amount of time for Black people to talk about famous and important people besides MLK and Rosa Parks."
While Skidmore believes that while the most spoken-about Black pioneers are important, she thinks these people are only focused on to the extent they are because of the way "they affected the dynamics in the U.S. as a white-happy country."
Skidmore expressed her admiration for the African-American activist Marsha P. Johnson. She is known for her advocation for gay rights and was a prominent figure in the Stonewall Uprising of 1969.
"I had never heard of her before this year, but she worked hard for the rights of tons of minorities," Skidmore said.
Skidmore strongly believes that, without a doubt, Black History Month is a necessary celebration, especially for the education of others.
"A lot of the Black History we learn about center around things like slavery and basic human rights that [activists] fought for that should have been, like, 'duh, you can have a family and friends,' but were debated as something radical," Skidmore said. "Black History Month is a time for Black people who changed everyday life in small ways to be recognized for the things they did that aren't normally talked about."
Skidmore used the example of Lewis Howard Latimer, an African-American inventor who worked with Alexander Bell and Thomas Edison to create the incandescent lightbulb. Despite being a craftsman and patent of the invention, when taught about in schools, he tends to not get the same recognition as his white co-inventors.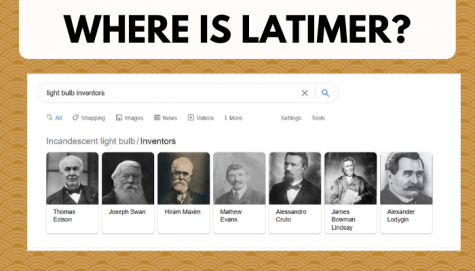 "It was a Black man that invented the traffic light. It's [an] absolutely important part of our lives today that we can't really live without but a lot of people don't know who invented it," Skidmore said.
When it comes to ELHS, Skidmore thinks it would be helpful to include Black History beyond what is taught in history classes "so that we can all be more educated on how much we are affected by Black people without even knowing it."
Grace Thompson (12), personally felt as if her knowledge of Black History was limited to slavery growing up. She, like Ngassa and Skidmore, believes that there are many sides of Black history that are simply ignored within school curriculums. She personally believes that ELHS' administrators could have done more to acknowledge the special month.
"I also understand that administrators are currently working very hard as they plan out our in-person learning transition, but I don't believe I've heard anything from them recognizing Black History Month or giving students resources of ways to celebrate," Thompson said. "A blast email from them with information regarding articles, videos, movies, or books would have been nice."
Some people, like middle school student Maggie Swords (8), suggest a direct approach from administration could help students learn more about Black History.
"I think that teachers and staff should host an assembly and give us a week of the month to research and make presentations on our favorite historical black figure," Swords said.
Some students have decided to take the task into their own hands, celebrating Black History Month and fostering Black appreciation, learning, and love amongst peers. And they have had fun with it.
Ngassa, who is the current secretary for the Black Student Union (BSU) at ELHS, has been a part of the club for three years. Despite the current online-learning situation, she has actively been organizing events within the club throughout February to celebrate Black history.
View this post on Instagram
"We've been playing Black history and Black pop culture Kahoots, we've been talking about our favorite black actors and musicians and highlighting some great black movies and shows to watch," Ngassa said. "I've really enjoyed what we've done so far this month. I miss all the fun games we'd play in-person, but we're making the most of it."
As someone who has helped in the process of facilitating the education of Black History at ELHS through BSU, Ngassa believes Black history is a vital part of American culture. As such, she strongly disagrees with people who believe Black History is not something that needs to be taught in schools. In fact, whenever she hears this opinion, she asks one question: "Why?"
"Ask yourself why you wouldn't like it to be taught and I guarantee your answer will come off as racist simply because it is," Ngassa said. "Black History is a beautiful thing. This country was built on the backs of our black ancestors and their triumphs and success deserves to [be] taught. To ignore an entire section of history would be to diminish a myriad of amazing individuals and the great things they did and continue to do."
View Comments(1)
About the Contributor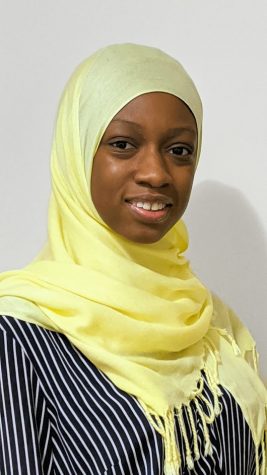 Aishah Abdulkadri, Multimedia Editor
Aishah Abdulkadri is a member of the Class of 2022 and one of the Multimedia Editors for Portrait. This is her first year on staff as a Junior. Aishah's...