Refusing to Miss a Step
Administration, staff and students examine racial justice in the district
Kayla Yingling (12) stared at the antigen testing consent and registration form in dismay. In bold, unmoving letters it demands that she "Please check the box next to the one that best describes your race." As a biracial individual, she's reluctant to choose any one of the five race boxes, and there's no reason for her to put "Unknown." 
Luckily, she still has one more option.
"I just hate putting 'Other' because it just feels so like, like I'm an 'other,' really?" Yingling said. "It just kind of hurts."
In the end, after a dilemma that took much longer than it should to tick a box, Yingling selects Black/African American. 
"That's how I'm seen in the world," Yingling said. "If I were to check white- even though I am more white than I am Black- that's not the way I look and that's not the way I interact in the world because, you know, how people see you matters."
So she scribbled a note on the form, remarking how the question "was a problem and people should be able to pick more than one [race]." Since her freshman year, Yingling has noticed that many state and federal tests allow students to select more than one race box, so she assumed that antigen testing could follow suit.
"That form really bothered me," Yingling said. "They should fix that."
Yingling isn't alone in this dilemma. At ELHS, 11.3 percent of students identify as multiracial. At the middle school, it's 17.8 percent, according to the principals of both buildings. 
And since June 2020, school and district wide administration have committed themselves to trying to better serve students like Yingling. In the aftermath of the George Floyd murder, they released a statement detailing their commitment to racial equity with a focus on Black students.
There were nine explicit resolutions, including the establishment of equity teams (now coined as social justice teams) and increased use of restorative practices instead of traditional discipline, among others. While formally laid out together for the first time, many of these were already long-term goals. 
The first signee on the resolution was Superintendent Dori Leyko.
"It was kind of a response and a recommitment to those goals so that's why you'll see that focused on black and brown students," Leyko said. "Our resolution is a stance the district is taking and saying, 'this is what we believe in, this is what, how, what we support.'"
Hiring staff of color
One of the nine initiatives laid out by the district was taking intentional steps to hire more Black teachers and staff. However, the district began this work before the May 2020 board meeting.
When Spanish teacher Diana Sanchez joined the ELHS staff at the beginning of the 2017-18 school year, she was the only teacher of color. She didn't notice for the first two or three years, but she has come to recognize just how important her presence as a woman of color has become. 
"Had you asked me like, 'oh, what does it mean to you to have like this teacher of color?' when I was in high school I would have been like, 'I didn't really even realize that was happening in front of me,'" she said. "Reflecting back on it, I connected with the only teacher of color I had–I still talk about her, I still think about things that she said in class, like, obviously there was, I felt something there that I didn't realize at the time that has meant something to me."
Since Sanchez's hiring, the district has made a point to hire more staff of color. In the last two years at the high school, they added Elena Espinoza, a biracial Latina and white English teacher, and Klaudia Burton, a Black/African American science teacher.
"It is equally an immense amount of joy and pressure being the ONLY Black teacher at the high-school level," Burton said in an email.
Additionally, the district also hired Associate Principal Matthew Morales and Red Cedar Principal Rinard Pugh, both administrators of color. They serve alongside Director of Curriculum, Instruction and Assessment Glenn Mitcham and ELHS Principal Andrew Wells–who has been working in the district for over 30 years but has only held his current position for four years. Both of the middle schools administrators are white. 
In the last two years, four student advocates were hired and split between the high school and middle school. All four are people of color. At the high school, Jerralmier Jones and Preston Watson, both Black men, were hired to the position.
The middle school also hired a counselor of color this year. While elementary schools don't have counselors, social worker Chris Anderson, a Black man, is the only social worker of color at any of the elementary schools. All counselors at ELHS are white. 
At the end of the 2016-2017 school year, 5.9 percent of district administrators were people of color. It has since risen to 22 percent. In the same span, the percentage of teachers of color has risen from 4.2 percent to 7.5 percent.
In the summer of 2019, ELPS began posting its positions to additional job sites to reach candidates of color. According to Leyko, hiring people of color is a "priority."
Because of this, there have been some changes to the hiring process.These include questions asked by interview teams that include people of color. Additionally, an equity statement is required as part of an interviewee's application materials. Two years ago, a statement was also added to all job postings that the district is looking for candidates to  "serve a diverse group of students" and that "represent our student population."
"While that may not be actively recruiting folks, I think what it does is it sends a message to folks who are looking at our job postings," Leyko said. "That this is important to us and this is what we're trying to do."
Despite the desire for staff of color, there are some roadblocks. The main issue is that there aren't many to begin with. And geographically, teachers of color don't often teach in places like East Lansing. In 2014, BIPOC teachers were less than ten percent of all classroom teachers, and half–48 percent–worked in inner cities. 
Statistically, people of color are less likely to be raised in wealthy households. Sanchez points out that people who were raised in low-income households and have the chance to go to college are unlikely to go into a profession that is excessively taxing with little monetary compensation.
Another instance of systemic racism and an obstacle for teachers of color is the year of student teaching. Potential teachers of color often cannot afford a semester or year of full-time work without pay, which is often a requirement for teacher preparation programs throughout the country. And while student debt affects everyone, loans taken out to pay for school itself can also be crippling without a clear escape. 
Nonetheless, a May 3 Portrait Instagram survey of 50 students asking "Does ELPS NEED (highlighted and capitalized) more staff of color?" prompted a unanimous response: Yes.
Gabriel Benavides (9), an African American and Hispanic student, believes it's important because it represents the student population- 42.2 percent of which are people of color–but also because their presence leads by example.
"It would help me see people of color like more taking professional roles in society," Benavides said. "As a kid you categorize yourself naturally. And so, if you see a person of color doing something you can think, 'oh, I can do that too.' But if you see no person or people of color as a teacher, it's a negative connotation towards that."
He also added that in regards to race-based curriculum, it "might be a little awkward" for him to ask white teachers certain questions. Part of that is because he can tell that teachers are "a little uncomfortable" when teaching about race. He believes having people of color teach about people of color will make that conversation easier.
An impassioned Board speech
Even as the district strives to improve, ELPS is not perfect. 
On May 10, School Board Trustee Monica Fink, a community member and Black parent, read a four-page speech at the school board meeting condemning the lack of action taken in the aftermath of the eight grade social studies assignment that asked students to pretend they were slaves. 
"Being Black in America is no easy feat," Fink read. "From a long and brutal history of racist policies and systemic disadvantages… the disparities we face as Black people begin before we've even emerged from the womb."
Fink began with thanking "Dori and team" for their efforts of addressing issues, including systemic racism, and explaining that her intentions were "not to call out anyone but to put a call to action." 
But then, Fink reproached the board for "21 days of silence" and asked the board to consider the climate they foster through their actions and when they planned to take an internal look at the operations of this district. Furthermore, Fink addressed how the district has empowered teachers to feel they are able to push back or refuse to teach something that they don't feel comfortable teaching or has the potential to cause harm, be culturally insensitive or improperly educate students. Ultimately, she wants to be part of a district that can create an environment where students feel empowered enough to speak out against an assignment that impacts them in a way that causes trauma and disrespects their beliefs and values. 
"We have to be mindful of our words," Fink said. "Actions and, more importantly, we need to be mindful of our inaction and what message it conveys to our peers, staff, students, families, and community members. Silence can be louder than a bullhorn and the continued silence speaks volumes, which is the reason for my statement tonight."
But even more than the silence, there was something else plaguing Fink–a "crisis of conscience as it pertains to my role in all of this," which caused her sleepless nights.
"I ask where I stand as a member of this board, a board who has for 21 days remained silent, deferred its responsibility of oversight and stewardship to this district to the central administration," Fink said. "Who holds the administration accountable for this failure–if not us, then who? If it is us, then what is our role in resolving the situation? The current investigation is akin to the police policing the police. I sit here today asking, what is our plan to move forward?"
Leyko makes a response
Two weeks later, at the next board meeting, Leyko introduced new ideas that were a result of her personal reflections. She said she was confident in the resources allocated to the social justice work, nor did she question the energy put forth, but there was one thought that wouldn't disappear. 
"I shared what we've done, some of the progress I thought we made," Leyko began. "But I think what I have failed to adequately recognize is that that was maybe self identified progress on my part, and our team's part, probably mostly mine. What I'm beginning to question is my evaluation and monitoring of the progress we're making and how we're actually assessing whether or not we are having an impact on our students and our families and our staff of color."
In a statement that lasted just over seven minutes, the Superintendent announced two new initiatives as a result of her contemplation. 
The first will honor the anniversary of the murder of George Floyd. After speaking with other districts and Associate Principal Matt Morales, it was decided that each school will receive a Black Lives Matter flag to permanently hang on the flagpole under the American flag. Leyko likened the action to erecting a yard sign, showing what people stand for. 
"I do not think that a flag flying has [any] impact," Leyko said. "I don't think that it checks any boxes of taking action and I certainly don't want to say that it's another thing we've done to make progress, but I do want to say that I think it's a way that we can acknowledge and and visibly show our community and our families what we do stand for in the district and what we do value….I think it reflects the commitment of our district. I think it reflects what our what our district and what the people in our district are about and supporting our students."
The second is significantly closer to checking a box–creating a position. According to Leyko, the idea had been "tossed around" the last couple years, but she believes the district is ready and now needs a person to help facilitate, coordinate and direct the district towards equity. 
Leyko said she would bring a proposal to the Personnel Committee to post a position for  a Coordinator and Director of Diversity, Equity, Inclusion and Social Justice after the May 24 board meeting. In an interview in early May, she also said that in response to the recent Asian American and Pacific Islander (AAPI) attacks, a resolution is currently being developed around "our commitment to the physical and social emotional safety" of Asian students, staff and families. She anticipates that it will be showcased at an upcoming board meeting. 
"I just want to create environments and places in our district where kids can fit can thrive," Leyko said. "I think one of my biggest responsibilities is making sure we hire people who can help carry out that vision because certainly one person can't do it, certainly 10 people can't do it–what it takes is everybody in the district. So, you know, really making sure that we get the right people on our bus."
Leave a Comment
About the Contributor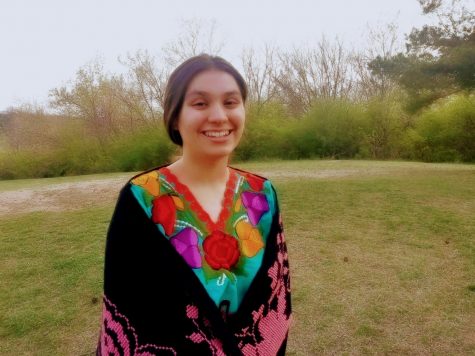 Ixchel Ceballos, Editor-in-Chief
Ixchel Ceballos is a member of the Class of 2022 and Editor-in-Chief for Portrait. She has been on staff since their freshman year during the 2018-2019...