Turkey Drive brings Thanksgiving dinners to families in need
ELHS's National Honors Society is running their annual Turkey Drive this November, delivering Thanksgiving dinners to families in need. 
The first week of November, NHS members delivered boxes and lists of foods to each first hour classroom. Each class then spent the past month bringing in food and filling up boxes with each required item on the list. Just in case helping the less fortunate wasn't enough incentive for students to participate, the classroom with the most boxes filled wins a donut party.
NHS President Finni Padgitt (12) has been on top of organizing the Turkey Drive. She selected Haven House as the place to donate the food. Haven House is a local homeless shelter for families, especially women and children dealing with domestic abuse. 
Each box donated contains all of the foods in a traditional thanksgiving dinner, like bread, canned foods, and turkey. It allows families to enjoy the meal without having to worry about how to pay for it. The boxes were delivered on thanksgiving, and the extra food was donated to the Lansing Food Bank. 
"The turkey drive makes such a difference for every family we give a box to," Padgitt said. "It takes all the stress off the parents who maybe wouldn't be able to provide during Thanksgiving break."
While each student has the opportunity to participate by bringing in food, NHS members have been helping out extra by volunteering to sort food and make posters. 
NHS member Molly Conlin (12) helped deliver boxes to classes. 
"I think it's important to help out in your community," Conlin said. "And, I had fun while doing it."
Leave a Comment
About the Contributor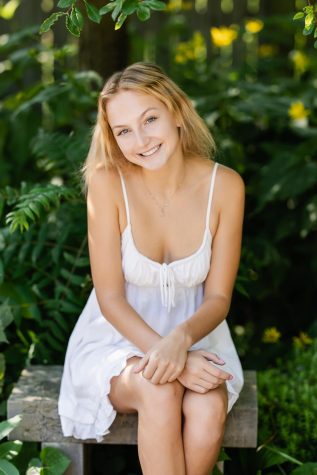 Frankie Calabrese Barton, Social Media Editor
Frankie is a member of the Class of 2023, and is the Social Media Editor and a staff writer for Portrait. This is Frankie's second year on staff as a...