Sound So Sweet
She was the only person who recognized my Red Velvet shirt.
They're not exactly an obscure band, but I didn't know anyone who would know about a K-pop group that wasn't BTS or BlackPink.
I had been tossing around the idea of writing an article about K-pop for a while. I took her compliment as a sign that I should, and Levitta Giles (11) would be my source.
I finally had the chance to ask her when we met again a week later at Mystery Inc. club. We automatically got along. I asked her if she liked other K-pop groups and she spoke faster than I could ask more questions.
Levitta smiled wide when she talked with me about K-pop. She waved her hands for emphasis and her eyes sparkled. 
"Listening to K-pop for the first time felt like a breath of fresh air."
It all began for her when she discovered K-pop in 2019 after hearing a BlackPink song in a YouTube video.
"I was like, 'Oh, this is pretty cool,'" Levitta said nonchalantly. "And then from there, I searched up all their music videos. And I was obsessed with them."
My second source discovered the genre in the same way. I had sat next to her in my freshman year science class, where we talked about BlackPink. When I went to ask Pardis Raberimiandoab (11), soon-to-be founder of the K-pop and K-drama club, if she wanted to talk to me, she beamed.
"Actually, I'm going to start a club about it!" 
I made up my mind. I scheduled to interview her the next day.
After I show her my Red Velvet posters in my room during our interview the next day, she squeals. She recalls her story, similar to Levitta's. 
"I thought, wow this music is so good, like, what is it? So I went and looked it up, and then I went 'Oh my gosh this is so good!' I continue to listen more. 'Oh my gosh, I want to stan them, I like this group. I'm gonna be a fan!' 
"Yeah, that's how my journey began." 
Pardis smiles and looks off when telling me about FaceTiming her cousin until 5 a.m. to watch a new ENHYPEN music video. 
"We talk about it for hours, we'll lose count of it," Pardis said. "We'll be like 'Have you heard this group's new song? This group is going to release this music on this day!'" 
It's memories like this that sparked Pardis to start a club for people who enjoy, or want to learn more about K-pop (and K-dramas, which she reminds me to add). 
"I just want to make a club where people can come together and we talk about the things we like, and we can make new friends," Pardis said.
I wondered why she would dedicate the time, spend the money, talk to an overly persistent interviewer for a newspaper she's never heard of, just to say something about a genre of music.
"Whenever I listen to their music, it just brings me happiness for some reason." Pardis says. "It's just so good. I don't have to understand the language in order to understand how good the music is. The fact that the music's made to be positive, to continue living, it's just positivity."
The language barrier wasn't an issue for Levitta either. She could still feel the music, and read translations if she wanted to.
"I watch lyric videos, so I still feel the message, the meaning of the song. I listened to it, even though I don't speak Korean."
She also genuinely tells me what her favorite boy group, Stray Kids means to her. She respects a fun pop song, but Stray Kids' meaningful lyrics and message resonate with her.
"I feel like I can relate to the lyrics in their songs because they talk about mental health a lot. They're very versatile, which is why I like them so much." 
When I ask her what she would say to someone unfamiliar with the genre, Levitta pauses to collect her thoughts. She gives a warm smile.
"I want them to know that K-pop is just an umbrella term. There's so many genres in K-pop, there's so many styles of music that you can find. So there's something in K-pop for everybody. Just give it a chance. Like, listen to it." 
To people who haven't listened to the genre, Pardis has simple advice.
"Give it a try. You will definitely enjoy it, you will definitely buy the posters, you will keep up with their music, and you will post about them on social media."
Leave a Comment
About the Writer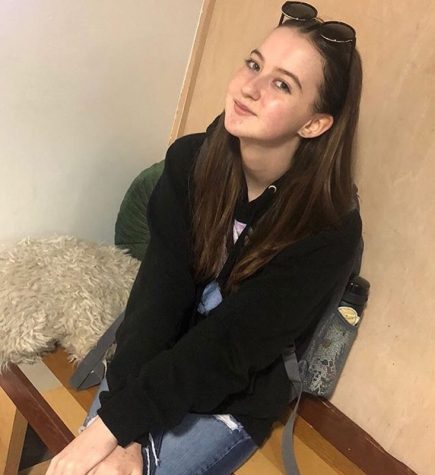 Allison Treanor, Print Editor
Allison Treanor is a member of the Class of 2023 and one of the staff writers for Portrait. This is her first year on staff as a sophomore. Allison's...