Two Staffers Review Lana Del Rey's new album
Allison:
"Did you know that there's a tunnel under Ocean Blvd?" is the first of many questions asked on Lana Del Rey's ninth studio album released late March, a grand return to form after two mediocre releases from a normally spotless artist.
"Ocean Blvd" can be seen as a series of questions: What is family? What is love? Who is Lana Del Rey?
The question of family is addressed immediately in the opener dedicated to and named after Del Rey's family: "The Grants." It was the final single before the album release, and deservedly so. It's a classic Lana style song with dramatic strings and mysteric piano, but with a unique gospel flair. "Do you think about heaven? Do you think about me?" she wonders, and regardless of the answer she may or may not receive, she sings in an angelic falsetto, "my pastor told me when you leave, all you take is your memories, and I'm gonna take mine of you with me." Family is who you're taking with you, she concludes.
Twin ballads "Kintsugi" and "Fingertips" also delve into the nuances of family, "Kintsugi" being especially beautiful, a tribute to grief and a vocal high point for Del Rey. Unfortunately, these two tracks–nearly 12 minutes of the album–tend to blend together, not only for being similar in content and remarkably slow pacing, but due to the rest of the tracks being much more complex.
The question of love, like all of Del Rey's albums, also plays on her mind. The Disney-esque ballad "Sweet" sees Del Rey asking the questions "at the very heart of things" to her lover. "What you doin' with your life? Do you think about it? Do you contemplate where we came from?" she implores over melodramatic minor keys.
"Margaret" is the only expressly "love song" of the bunch–a tribute to her producer Jack Antonoff's engagement to actress Margaret Qualley, and my personal favorite on the album. Lana Del Rey has made probably hundreds of love songs in her career. "Margaret" is not trying to re-invent the wheel. "This is a simple song" is the opening line, and that's what makes it so beautiful. It was made for Antonoff's wedding, and the chorus is a slow waltz of Del Rey and Antonoff gently singing "when you know, you know," with audible smiles over soft guitar, romantic piano and swinging percussion. It's a comforting note on an album filled with existential unknowns, a moment to sit with a friend and celebrate the good in life.
But just who is Lana Del Rey? A question that once hounded her, Del Rey takes the opportunity on "Ocean Blvd" to contemplate and try to answer it herself. 
Del Rey shares her candid thoughts on one common answer to that question on second single "A&W," wearing the title of "w****." 
"If I told you that I was raped, do you really think anybody would think I didn't ask for it? I didn't ask for it," she testifies, "This is the experience of being an American w****."
Del Rey also addresses the answer that she was "made" by her label, not a real person at all, on "Grandfather please stand on the shoulders of my father while he's deep-sea fishing," calling to the other side for guidance and reclaiming her narrative; "I know they think that it took somebody else to make me beautiful, beautiful as they intended me to be, but they're wrong."
After Del Rey's conclusion of "maybe tomorrow you'll know" on "Margaret," the album forgoes the more existential problems it contemplated before, and goes into three trap songs that feel somewhat like a party at the end of the world.
And this is how "Ocean Blvd" ends–Del Rey doesn't know the answer, and she doesn't pretend to. But even if you can't know an answer to a question, that doesn't mean it doesn't affect you, and doesn't mean you don't think about it. On "Ocean Blvd," Del Rey lets the darkness of the tunnel teach her lessons, and revels in the light at the end.
Tyler:
Calling "Did you know that there's a tunnel under Ocean Blvd" one of Lana Del Rey's best albums is an understatement. Known for pieces like "Born to Die," "Norman F***ing Rockwell," and countless other acclaimed albums, following along with Del Rey's journey of musical mastery as a fan has been a beautiful experience. 
With each new album she releases, we are introduced to another piece of the puzzle that is Del Rey's life. The direction she takes on "Ocean Blvd" is one we haven't seen from her yet, with new lenses on experiences that made her who she is today.
"A&W," the third track on "Ocean Blvd," portrays a younger and more insecure version of Del Rey that just wants to be loved. Loved by a man who has to keep her a secret. 
"Puts the shower on while he calls me," she says, "slips out the back door to talk to me."
This connects to "Let the Light In (feat. Father John Misty)" because of the lyrics "at your back door, yelling 'cause I wanna come in." Referring to the back door for a second time could be Del Rey's way of wanting the man–her ex lover–back.
To further push the narrative that "Ocean Blvd" is one of her best works, Del Rey is able to include different genres that wouldn't typically fit into one album, such as the gloomy piano ballad "Kintsugi," about the passing of three family members. Del Rey uses the metaphor of Kintsugi, the Japanese art of putting broken pottery pieces back together with gold, to represent her imperfections that still make her beautiful.
"I'm probably runnin' away from all of the feelings I get, when I think all the things about them. Daddy, I miss them," Del Rey confesses, showing how losing her family has affected her. "That's how the light gets in," she repeats three times to represent each family member that died. She follows this with "think by the third of March, I was cracked open," revealing how she has been pushed past her breaking point. 
Even with an album that embraces such a distraught sense of emotion, this wouldn't be a Lana Del Rey album if she didn't include a couple tracks that have completely different genres than the rest. "Peppers (feat. Tommy Genesis)" and "Taco Truck x VB," are two of those on "Ocean Blvd," contrasting the alternative pop of the rest of the album with trap.
"Peppers (feat. Tommy Genesis)" is a unique song in her discography because of the repetition of the lyric "Hands on your knees, I'm Angelina Jolie," that continues to be the main chorus throughout the rest of the song. The upbeat vibe in the song had many of her fans ranking this as their number one track on "Ocean Blvd," but the unexpected genre switch doesn't play off well.
Wrapping up the album with "Taco Truck x VB" is intriguing, as Del Rey adds a remix of the song "Venice B****" from one of her previous albums, "Norman F***ing Rockwell." She's never remixed a song on an album before, and though the remix is beautiful, it will never compare to the original. 
With an exit like "Taco Truck x VB," you have to wonder what this means for her next album. She gives us a taste of her past by incorporating "Venice B****" into the song, showing us a new version of a story that's already been told. One can only imagine what new pieces will be put together in Lana Del Rey's puzzle.  
Leave a Comment
About the Writers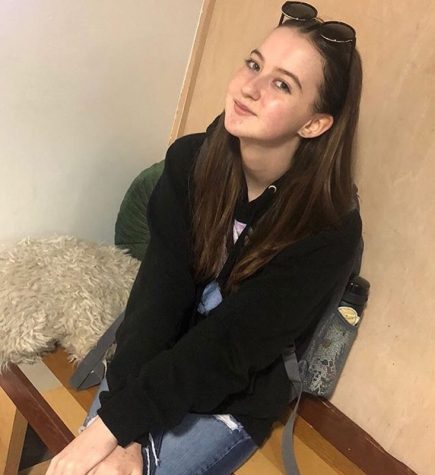 Allison Treanor, Print Editor
Allison Treanor is a member of the Class of 2023 and one of the staff writers for Portrait. This is her first year on staff as a sophomore. Allison's...
Tyler Keefe, Staff Writer
Tyler Keefe is a member of the Class of 2025 and is the junior social media editor, and one of the writers for Portrait. He has been on staff since his...