Celebrate Halloween Safely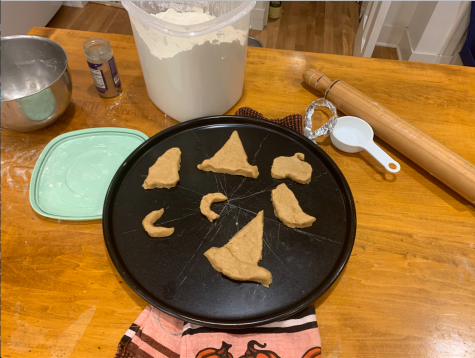 Once trick or treating is no longer a go-to Halloween activity, celebrating Halloween can be a little more complicated, coming up with ideas for celebrating during a pandemic can be even more difficult. It is still important to maintain social distancing and stay as safe as possible. 
Halloween Cookies 
While it isn't as traditionally Halloween focused, cookie making it can be really fun! Adding a bit of pumpkin spice (cinnamon, nutmeg, and allspice) to a traditional sugar cookie recipe can add a fall feel. 
 If Halloween cookie cutters aren't easily accessible there are a few options, a star can be a leaf and a circle can be a pumpkin. Another option is using tinfoil to create your own shape! 
While making cookies spend time with family or call a friend, then compare designs or taste-test the cookies and compare!
Virtual Murder Mystery Party
Many websites provide murder mystery party sets. That can include a variety of participants and are easy to adapt to an online format. Google Meets or Webex are free options if zoom Zoom Pro is too expensive, On zoom, it is also easy to distribute backgrounds so everyone feels like they are in the same location. Canva is a great option for making the zoom background.  
Mail goodie bags can also be fun and while they certainly aren't required they are a great addition to make it all a bit more festive! 
Virtual horror movie sleepover 
Staying up late on a call and watching a movie might sound like it can't be fun but a few adaptations can make it almost like an in-person movie night. Dropping off goody bags at the participant's houses with popcorn, candy, and a candle makes everything a bit more festive! 
Screensharing is always an option but it can be difficult if screen sharing the movie isn't working try using two devices if at all possible. Being on zoom or facetime with headphones on a computer while watching the television or phone can work pretty well if it is an option for everyone involved. 
Halloween mask making 
It is important to still wear a mask with your costume and according to the CDC masks for costumes often aren't made to be protective. Making a DIY mask to match a costume can be fun, inexpensive, and helps everyone stay safe. 
Using a simple template for a mask and then adding decorations can be a fun way to make a mask fit with a costume. Calling some friends and having a fun sewing project during a cold day can be a fun way to stay safe and spend time with friends. Adding buttons to the side of a had or headpiece can relieve some of the pressure on ears. The easiest decorations to add are ribbons, lace, and buttons but glitter and fake flowers are also fairly doable. If sewing is difficult to use fabric glue can work but it does make the fabric stiffer. As a reminder, do not cut holes in the mask. 
A decorations competition
Decorating for Halloween doesn't have to be expensive and can be a fun way to share the holiday with neighbors. Reusing everyday items to make decorations are fun and environmentally conscious.
  Newspaper cutouts of pumpkins are fun decorations for a door or using tissues and string to create little ghosts. If the items are repurposed post in on an Instagram story and tag Students For Environmental Action to enter in a giveaway. Then find a friend and go on a walk (6 feet apart) with masks to look at each other's work!
Leave a Comment
About the Contributor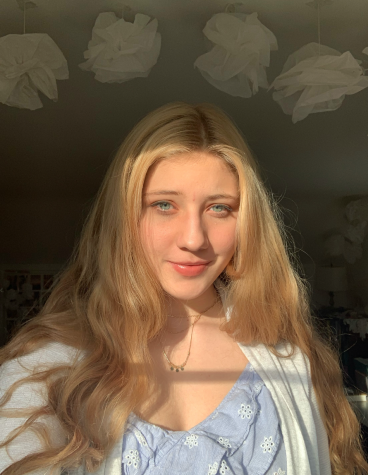 Marie Adele Grosso, Feature and News Desk Editor
Marie Adele Grosso is a member of the Class of 2022 and is the Managing Editor for Portrait. This is her second year on staff as a Junior. Marie Adele's...