The Academic Bias of the SAT
How SAT's are harmful for students
Dylan Brown (12) didn't see how the SAT represented her intelligence as a student. According to Brown the school didn't help to set her up with how to apply to college.
The requirement of submitting the scholastic aptitude test scores when applying to colleges is becoming less common. Yet the SAT is still a common baseline and standard for many universities. While associating the SATs with stress and pressure begin to affect whether students will even take the test.
Grace Thompson's (12) mental health dives when preparing for her SAT because the test becomes an unhealthy form of academic validation. She feels that the nationwide assessment represents her intelligence as a student in a skewed, unbalanced way.
"I think the pandemic has served almost as a catalyst for more holistic reviews of applications," Thompson said. "Some schools are confident that they were able to make good judgements without test scores." 
There are some very prominent schools that no longer require students to submit their SATs such as Boston University, Bowdoin, University of Chicago, University of California, New York University and Northwestern.
Before COVID-19 had affected school, students like Sophie Phillips (12) had been preparing for the SAT. 
"I was planning on taking the SAT at MSU right when everything was shutting down," Phillips said. "The infamous day March 13 came and the SAT scheduled for that Saturday was cancelled. It was a little bit defeating not to have the opportunity to take the test after working so hard to prepare."
Apart from people who don't have the financial resources, there are also students who are not good test takers, and the SAT doesn't measure their full capacity.
An unspoken bias towards lower income families is present throughout the scores of SATs creating an unfair feeling amongst the students taking the test. People with money pay for tutors, classes, and multiple opportunities to take the test. meanwhile, lower income families do not have the resources to set their children up with the means necessary to guarantee a good score. 
"The SAT and ACT scores are a very good representation of the American education system," Phillips said. "It feels as if more often than not the sat is a representation of social or economic class and test taking abilities."
Due to full online instructions, many universities became test optional, causing Phillips and others to feel a sense of relief with college applications.
"Not having to worry about submitting a SAT score really helped me in this process," Phillips said. "I was able to focus on my extra curricular and essays, which I believe to be far more representative of my intelligence and character."
Leave a Comment
About the Contributor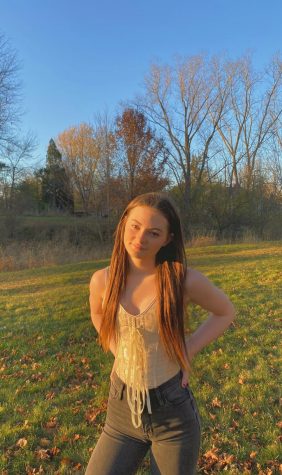 Brielle Williams, Staff Writer
Brielle Williams is a member of the Class of 2023 and one of the staff writers for Portrait. This is her first year on staff as a sophomore. Brielle's...