One for the books
ELHS readers recommend their favorite books
"Dark Matter" by Blake Crouch 
Reading takes Iyla Blundell to a completely different world. A world that gives her a new view of life. If she had to recommend just one book, she would choose "Dark Matter" by Blake Crouch, a sci-fi thriller chock-full of existential dread. "It takes you through what would happen with each decision, and if you change one decision, how that would impact the rest of your life." Blundell describes. "It's very unique and interesting." 
Dark Matter is rated 4.6/5 stars on Barnes and Noble's website, and was described as "the perfect book for you to start reading science fiction" by bookwritten.com, so Blundell is not the only one to shower it with praise.
In three words: "Confusing, chilling…and haunting." 
"Girl Interrupted" by Susanna Kaysen
Being "taken to another universe" is also what Aris Hernandez-Dodge looks for reading to. She recommends a book she's only halfway through with, "Girl Interrupted", an autobiography by Susanna Kaysen. Kaysen recounts her year and a half in a mental hospital when she was 18. The book flits between past and present in a haze. "She's just going through life and trying to figure out why she's there," Hernandez-Dodge summarizes. 
The book was widely popularized by the 1999 film starring Winona Ryder and Angelina Jolie, and has been a cult-classic since release.
In three words: "Sad, depressing, and crazy."
"The Lunar Chronicles" series by Marissa Meyer
Coy Anderson was more than excited to recommend to me the "Lunar Chronicles" series by Marissa Meyer, a post-apocalyptic sci-fi action flick featuring interplanetary politics and good old fashioned star crossed lovers. Anderson also finds reading freeing and enjoys living the worlds in his.
"The Lunar Chronicles" are New York Times best sellers, and is in talks of getting an animated series to look forward to soon!
In three words: "Fantasy and action"
Leave a Comment
About the Contributor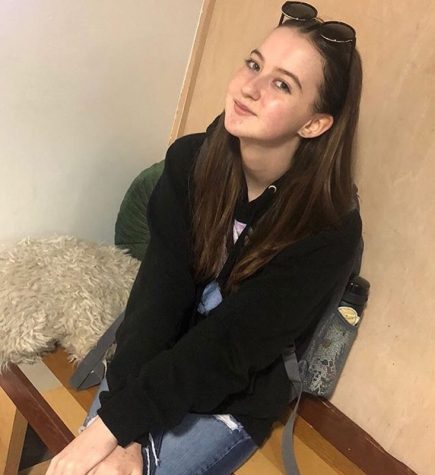 Allison Treanor, Print Editor
Allison Treanor is a member of the Class of 2023 and one of the staff writers for Portrait. This is her first year on staff as a sophomore. Allison's...