Back in the game
Varsity girls basketball welcomes new coach
For Grace Whelan's ('13) whole life, she just focused on being a player. She played four years on varsity basketball, won a State Championship, and competed as a college athlete. Once she was done with college, she wasn't ready to give up basketball yet, but her body could no longer handle playing. So, she got into coaching and assistant coaching.
Now, a decade later, Whelan is back coaching for her former team.
Former coach and current Physical Education and Health teacher Robert Smith retired last year to spend more time with his family. Whelan, who was coaching the freshman girls at Holt at the time, saw the position was open and decided it was a job she wanted to have.
"I thought 'Why not me, why not now?'" Whelan said.
Growing up, Whelan admired her brothers' basketball playing, and following in their steps, it soon became a passion of hers. 
"I just wanted to do whatever they did," Whelan said, "So I got very involved in basketball because they were."
In her freshman year, the 2010 season, her team won the State Championship. Whelan remembers only being in for a few minutes, but scoring a three-pointer.  
"Right when I shot it, coach Smith was like 'No, no. no, no, don't do it!' Then it magically went in,'" Whelan said.
Now, as coach, Whelan is proud to carry on ELHS's legacy and build on the foundations of respect and unity. 
"Of course, I want to win, that's what makes it fun," Whelan said. "But my priority is just to build character."
The players on the team are excited to be able to benefit from the coaching of a former high school and collegiate player. 
Sophie Klinger (11), is the point guard on the team and has shown up to many of the preseason workouts with Whelan. 
"[Whelan] knows what to expect," Klinger said, "she played in college so she knows what it takes to get there." 
As a coach, Whelan is focused on promoting the team aspect of basketball and building the community. 
"I enjoy what basketball does to groups of people," Whelan said, "Like becoming a team and seeing the girls interact and communicate with each other." 
In practice, Whelan focuses on team building activities. Nevaeh Vasquez (10), has attended some of the pre-season workouts.
"We play a little scrimmage at the end of practice with ourselves where she's [Whelan] not allowed to coach during that time," Vasquez said, "So it gives us a chance to get to know each other for ourselves." 
Whelan is thankful to be able to come into a basketball program that is known for winning around the state. 
"So walking into that is pretty cool," Whelan said, "it gives me the chance to not only try to win to the best of our ability all the time, but it gives me an opportunity to really unify our program and work on our individual relationships and respecting each other."
Leave a Comment
About the Contributor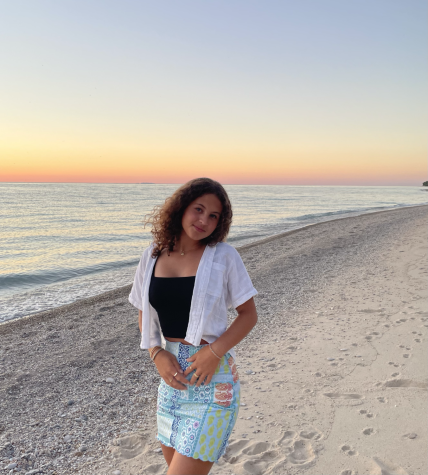 Elizabeth Gisholt, Staff Writer
Elizabeth Gisholt is a member of the Class of 2025 and one of the staff writers for Portrait. This is her first year on staff as a sophomore. Elizabeth's...