History, In Color
ELHS brings back the Black American History class after over 50 years
For the first time since the '70s, ELHS is offering a course in Black American History. Ross Gorman, who has been teaching history for eight years, seven of them at ELHS, is the teacher. 
"As part of my professional development plan, one of the goals that I put forward was to help develop a Black American History curriculum for the school," Gorman said. "I looked around at the demographics of the school, and what we were offering in terms of curriculum, and just thought it was something that needed to be here."
 Although Gorman is the main teacher for this class, he did not create it himself. Teachers Jill Horn and Julie Berridge both helped create the class over the duration of the past two summers.
"We would meet occasionally during the school year just to touch base to see where we were with our research," Horn said. "We met with a professor at MSU who focuses on African American Studies, Pero Dagbovie. And he's also a community member." 
On Feb. 14, 2022, the proposal created by the teachers was submitted, and by March this course was officially approved to be offered to the students of ELHS for the 2022-23 school year during the second semester.
Some students, like Kaeden Strickland (12) and Janell Brown (11), were happy to learn of the new course option because of the lack of exposure to Black History in regular history classes. 
Many students who are taking this class appreciate the new space created where they feel comfortable in their skin while learning about their history.
"I think it's really cool because it's finally a way to represent us as a group, and kind of give us our shine that everybody else has," Strickland said. 
Other students like Sarah Bollman (11) are interested in getting a more in-depth learning experience in something they may not know a lot about. "I thought it'd be interesting [the course] because I feel like I don't know a lot about African American history," Bollman said. "This subject isn't really taught very much in history classes here, I thought it would be interesting to take a class that's solely dedicated to that."
The class is project-based, focusing on the more positive aspects of Black History, while still acknowledging the injustices from various perspectives. 
"We wanted to offer a variety of focuses so we weren't just highlighting the negatives, or what you would have gotten in U.S or World History," Horn said. "We wanted to focus on spiritual and cultural moments, wanted to focus on progress and innovations and political resistance. We wanted to focus on a well-rounded way to get into this, rather than just that the general experience for Black Americans has been overwhelmingly negative. We wanted to show that that's not necessarily the only truth."
Leave a Comment
About the Writer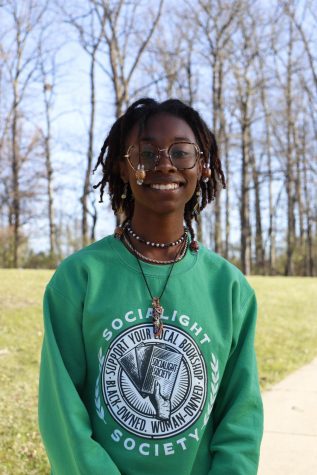 Joelle King, Staff Writer
Joelle King is a member of the Class of 2025 and one of the writers for Portrait. This is her first year on staff as a sophomore. Joelle's favorite thing...