The road to commitment
Jaida Thomas(12) was frantic.
She had to find her cousin, and as she rushed around the middle school, she was stopped by the middle school's track coach who noticed her talent for running. On the spot, they recruited Thomas to the team. 
"Even while I was playing basketball everyone always suggested that I would be good at track," Thomas said. 
Over time, Thomas has learned to better herself by understanding the sport and how her body functions. She understands the importance of incorporating weight training into her daily routine with the amount of estrogen women produce, which turns into body fat rather than muscle. 
"The key to maintaining and increasing speed was to make sure my body was built to do so," Thomas said. 
Thomas works with personal trainer Aaron Gumpert at M43 Fitness Center in Lansing to improve her acceleration and weight goals frequently. 
"[COVID-19 ] set my training timeline back by a lot. Yes, working out wasn't placed on hold, but working out isn't the same as competing and pushing yourself in competition, so that was a struggle," Thomas said.
Thomas started her college scouting journey the summer of her junior year. Missing the 2020 season put a twist on the process, making it more her responsibility to reach out to colleges. She started filling out recruiting questionnaires to any college she was interested in attending.
Having cousins running track and field in college, this has always been a goal for her. Now, she is the first of her immediate family to go to school on an athletic scholarship. As she wraps up her high school career, Jaida Thomas (12) will continue playing the sport she loves at Davenport University. 
Thomas is most influenced by her family. She calls them her biggest supporters, but also her toughest critics. Her father and coaches know how much potential and talent Thomas has and pushes her to give 100 percent throughout every event.
 "With congratulations comes constructive criticism, but I wouldn't have it any other way,"
Thomas said. 
Thomas received offers from 14 different colleges and universities around the country. She chose Davenport University for the location and community. 
"I knew I wanted to go to a smaller school but still wanted to be able to meet new people. I wanted to be close to home but still experience life on my own," Thomas said. 
###
Leave a Comment
About the Contributor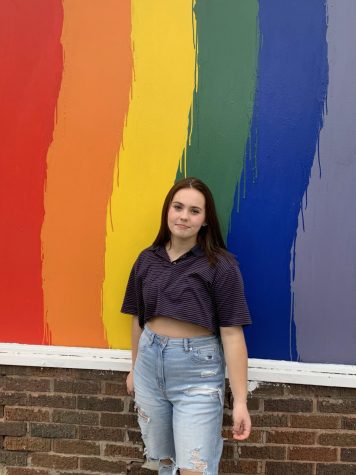 Emma Waldo, Staff Writer
Emma Waldo is a member of the Class of 2023 and one of the staff writers for Portrait. This is her first year on staff as a sophomore. Emma's favorite...