Top 5 Albums of 2022
2022 was the year of the great return. Three of the five artists on this list haven't released albums since 2018, and all had the full lockdown to witness and utilize in their creative process. It was also the year of the dark horse–many artists who stick to the shadows, or some who hadn't even released an album before came to give the pros a run for their money. 
And for me, after three years of year-end lists, I can't help but feel, similar to many of these records, this is what it's all been leading up to. Thank you for reading all these years.
Ethel Cain – Preacher's Daughter – 4.8/5
Standout tracks: Thoroughfare, Gibson Girl, Sun Bleached Flies
How they got here
"Preacher's Daughter" is the debut album from Hayden Anhedönia, embodying the character of Ethel Cain. The album, a modern southern gothic epic, tells the story of Ethel, a preacher's daughter who runs away from home, and (for sake of not spoiling, and keeping the school newspaper PG) it goes down from there.
To keep it simple, Ethel's story is an analogy to Anhedönia's life growing up Southern Baptist in Florida, and an analogy on a grander scale for the mythological "American Dream." It can be seen as a piece of southern gothic literature, with Ethel's tragic story representing the underlying violence of modern America and its relation to religion.
Best of the album
It should be looked at and consumed as a whole record, but as for standout songs, "American Teenager" is Anhedönia's most famous song by far, an anti-war, anti-patriotism anthem that made Barack Obama's "Favorite Music Of 2022" list. It's a catchy song, but too different from any other song on the album.
"Thoroughfare" is the midpoint of the record, when Ethel leaves her home. It's my favorite song of 2022, an odyssey in and of itself, with excellent storytelling and an instrumental that builds into a cathartic crescendo towards the end.
It would be a disservice to talk about "Preacher's Daughter" and not highlight the gospel of "Sun Bleached Flies." If only for Anhedönia's most popular lyric, which can be used to sum up the album as a whole: "God loves you/But not enough to save you."
Conclusion
It's hard to pick a favorite aspect of the record. I'm always a sucker for albums with overarching stories. I love the sinister production, Anhedönia's descriptive lyrics. But if I had to choose it would be Anhedönia's voice.
She has the most unique voice I've ever heard, and perfect control of it. She knows what to sing, and how and when. Her voice is naturally deep and smooth, and she can go anywhere with it. The delivery can be ominous, threatening as in "Gibson Girl," mousy and pleading like "Ptolemaea," or angelic and gospel-like in "Sun Bleached Flies."
I'm not saying the album is perfect. Most songs go on for a good minute longer than they should, the first half of the record blends together, and Anhedönia struggles with enunciation, but these feel like nitpicking compared to every other aspect of the record.
It is unfathomable to me how "Preacher's Daughter" was almost entirely written and produced solely by Anhedönia. Not only the sheer quality–the mixing is smooth and balanced–but the detail. Every listen uncovers a new element. How a single person could make such a deeply complex record is beyond me.
Every other artist on this list has been going for over a decade, and save maybe AM's "Tranquility Base" and Weyes Blood's "Titanic Rising," albums that took near armies to make, have come nowhere near anything of this scale or complexity, and this is Anhedönia's debut album.
Is "Preacher's Daughter" the strongest album released this year musically? No, that would go to the veteran Florence. Is "Preacher's Daughter" the only album in recent memory to truly push the boundaries of music and be something never done, or even attempted before? Yes. And that is why "Preacher's Daughter" is the best album of 2022.

Florence and the Machine – Dance Fever – 4.65/5
Standout tracks: Girls Against God, Daffodil, Morning Elvis
How they got here
After releasing the understated "High As Hope" in 2018, Florence Welch swore again she would quit touring. "The monster of the performance heard me," she told The New York Times. She got what she wished for, and COVID took the world in its grasp. "How do you feel now?" she felt the monster ask.
"Dance Fever" is the response to that question. Her biggest, and grandest, but also most personal album to date depicts the pandemic through Florence's eyes, her relationship with fame, and her eventual return to her personal church- the stage.
Best of the album
"Dance Fever" opens with the most grandiose song on the record: "King." It's a restless anthem, with Welch beginning a common theme on the record, the trade-offs for the life she feels she was born to live, that as a performer, and the life she must give up to have it. "I am no mother/I am no bride/I am king." It ends with a cry–of battle, or grief or both. 
Another key thread of the record is the backdrop of the pandemic. "Is this how it's always been?" She wonders in "Free," "To exist in the face/Of suffering and death/And somehow/Still keep singing?" In the cinematic "Daffodil," Welch continues to detail her efforts to find beauty during tragedy, noting the paradox of the pandemic beginning in Spring, the season of new beginnings. "The world bent double from weeping/And yet the birds begin to sing."
The record ends with Welch's return to the stage in "Morning Elvis." Crowds cheer in the background as she bittersweetly recounts, as if speaking candidly to the listener, right before putting her larger-than-life stage mask on, "After every tour/I swear I'll quit/"It's over boys/Now this is it"/But the call/It always comes."
Conclusion
"Dance Fever" is a giant, complex beast of a record. Welch described it as "[Walking] between fantasy and reality." And in times like these, "Dance Fever" makes you beg the question: what's the difference?
First Aid Kit – Palomino – 4.25/5
Standout tracks: Angel, Ready To Run, Palomino
How they got here
If anyone were to ask me what the saddest record I know is, I wouldn't hesitate. First Aid Kit's 2018 heart-stopper "Ruins." It was written after the lead singer broke off an engagement, and doesn't offer even an ounce of hope. Only soul-crushing sadness. It's an album you don't really recover from listening to.
Once you reach a "Ruins"-like rock bottom, you either stay there, or start to move on. In "Palomino," First Aid Kit make the decision to keep pressing forward, and tell the hopeful tale of healing through reflection, a sunrise after the starless night of "Ruins."
Best of the album
There are five excellent songs on "Palomino," and a bit of a ditch between them. The first three songs: "Out Of My Head," "Angel," and "Ready to Run," and the last two "29 Palms Highway" and "Palomino."
"Ready to Run" is my favorite song on the record, and shows the band recalling their darker days, but forgiving their naive past selves. "Who did I think I was/As I narrowed in closer to the sun?" They wonder, deciding "Perhaps I'll feel like this forever/I'm always ready to run." It's accompanied by decisive piano and percussion, and with a "Ruins" era style horn solo that perfectly encapsulates the bittersweetness they feel.
The closer, and title track, "Palomino," is my second favorite song on the record. It's beautiful, loving, and hopeful, the culmination of First Aid Kit's journey thus far. There is still that sense of fear, and reluctance, but now, with the realization of "What the hell am I even looking back for/For I know/Where you go/My love goes" 
Conclusion
While these five songs are some of the best they've ever released, the songs separating them ("Turning Onto You" to "A Feeling That Never Came") do drag the record down. They're not bad, but mediocre, and vastly overshined.
"Palomino" replaces "Ruins'" anguished grieving with hard-won acceptance. If "Ruins" was a record of endings and closed doors, "Palomino" shows the band riding off into the new day, forgiving their past and using it to build a brighter future.
Arctic Monkeys – The Car – 4/5
Standout tracks: There'd Better Be A Mirrorball, Body Paint, Mr. Schwartz
How they got here
The Arctic Monkeys had big shoes to fill coming off of 2018's space-age masterpiece "Tranquility Base Hotel & Casino," a didactic (thanks, Mr. Akers) tale about consumerism, fame, gentrification, social media, modern technology, etc, etc, all taking place through a hotel and casino on the moon, with a starry jazz rock backdrop and a career best vocal performance from frontman Alex Turner.
"Tranquility Base" is an album you love or hate, and many fans, used to the Rock N' Roll AM built their monumental name off of, hated it, deeply. For me, it's tied for my favorite album of all time, a once-in-a-lifetime bullseye lucky to be witnessed. So while I was deeply excited for The Car, I also knew it would be existing in a shadow.
You can hear "Tranquility's" shadow throughout, with the '70s lounge atmosphere "The Car" takes on, especially in the groovy and off-putting "I Ain't Quite Where I Think I Am," and closest thing to a pop song on the record, with signature dystopian lyrics, "Hello You."
Best of the album
"There'd Better Be A Mirrorball" is easily the greatest song on the record, and possibly a career top five for Turner, both vocally and lyrically. "So do you wanna walk me to the car?" Turner lilts in a beautiful falsetto brimming with melancholy, "I'm sure to have a heavy heart."
Also of note is the second single, "Body Paint," the closest thing to a "regular" Arctic Monkeys song (if such a thing exists), on the record. Turner gives another fantastic vocal performance over a steadily ramping beat complimented by piano and strings, eventually culminating in the record's only guitar highlight, a fixture every AM song used to have, and the band clearly hasn't forgotten how to utilize. 
Conclusion
Far from "Tranquility's" 0-100 impression, "The Car" sits in a murky middle. Whenever you try to slap a number or adjective on it, it slithers out of your grasp and leaves you in a chase. It's a beautiful record, no doubt, but convoluted. It took quite a few listens (and a Zane Lowe interview) for me to truly appreciate it, but it got better with every listen from then on.

Weyes Blood – And In The Darkness, Hearts Aglow 3.9/5
Standout tracks: Children of the Empire, Grapevine, Hearts Aglow
How they got here
Hailed as a prophet after releasing 2019's foreboding "Titanic Rising," Natalie Mering (stage name Weyes Blood) is back for a bit of a "told-you-so" moment with her fourth full-length album "And In The Darkness, Hearts Aglow."
The unfortunate truth for Mering is once you make an album like "Titanic," you can never really live it down. 
You'd be scarce to find a "best of 2019" list without "Titanic" in first or second, and for good reason. It's a near-uncontested masterpiece–and any follow-up was going to face tough comparison. But "Darkness" doesn't sit at fifth because it's not as good as its predecessor. It has the best individual songs of any album on this list.
Best of the album
My personal favorite track is "Grapevine," a tough contender for Mering's best song (which, as established, has huge competition) with Mering's characteristically novel-like lyrics like in the finale: "It hits me for the first time/Now we're just two cars passing by/On the grapevine." She sings like a siren as the ever-grand instrumentals swell and crash like the sea around her.
"Grapevine" is closely trailed by the title track, "Hearts Aglow," the embodiment of the "dystopian romance novel" Mering described the album as. "The whole world/Is crumbling/Oh baby/Let's dance/In the sand." 
Also of note is the lead single and opening track "It's Not Just Me, It's Everybody," followed by "Children of the Empire," which Mering described as "an American kid living in the death of the American dream." And after a bit of a downwards slope towards the end, "The Worst Is Done," a beachy paradox of upbeat instrumentation, and by this point, somewhat repetitive, dystopian lyrics.
Conclusion
What really gets "Darkness" is its strength as an album on the whole. While it has some fantastic individual tracks, it is also riddled by misses, namely in the frankly boring instrumental tracks, "And in the Darkness," and "In Holy Flux." Equally skip-inducing piano ballads, "God Turn Me Into A Flower," and "A Given Thing," something something. Losing four tracks on an album of only ten seals "Darkness" from any higher spot the best of it might deserve.
Leave a Comment
About the Writer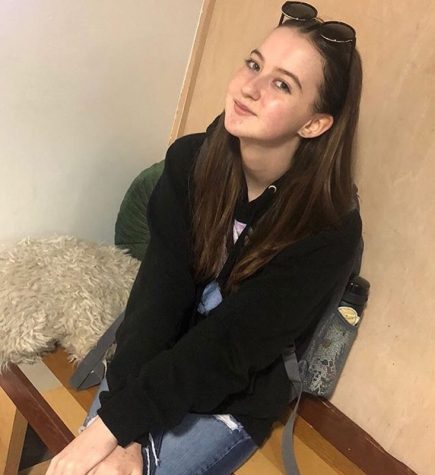 Allison Treanor, Print Editor
Allison Treanor is a member of the Class of 2023 and one of the staff writers for Portrait. This is her first year on staff as a sophomore. Allison's...